Take all the Buzzfeed quizzes you want, but unless you drank Hi-C Ecto Cooler by the gallon, you were NOT the ultimate 90's kid.
I swear my brother and I drank a Big Gulp per day of Ecto Cooler while we fought over who got to play with the Teenage Mutant Ninja Turtles "TurtleCopter" and tried to blind each other with POGs. It is the nectar of the tiny child gods.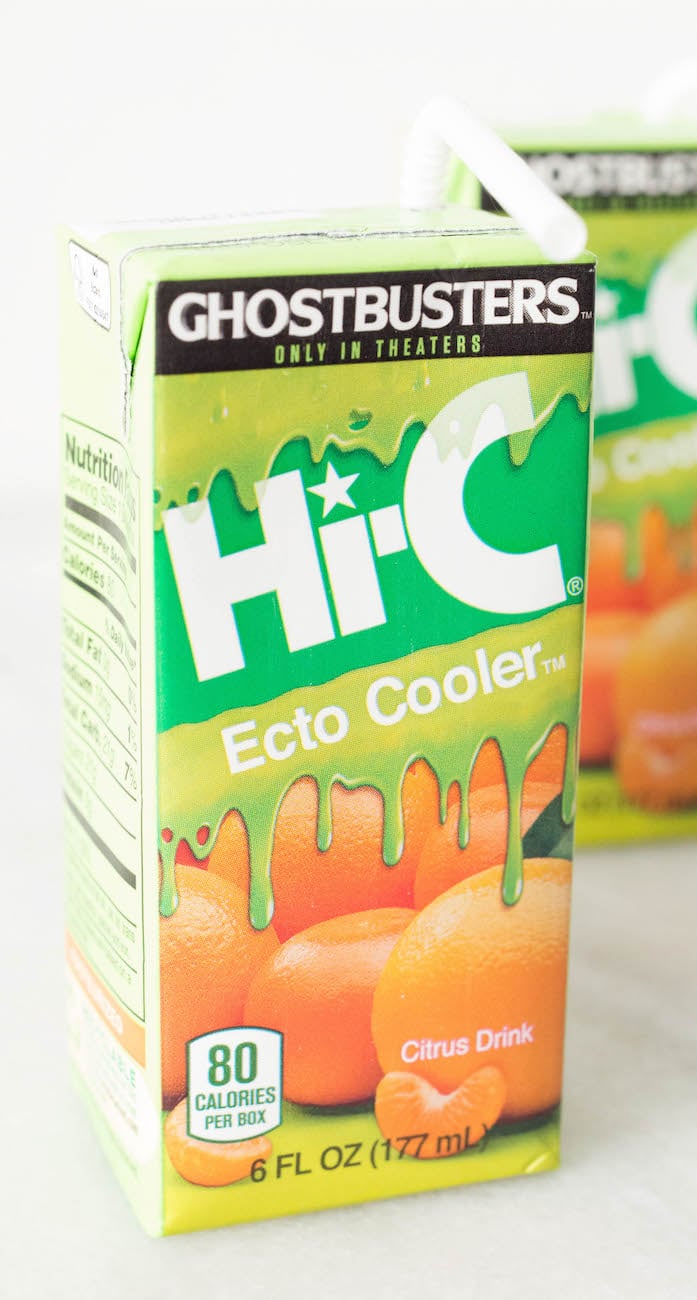 I heard it was coming back for the new Ghostbusters movie and could immediately feel the sugar coursing through my veins. I instantly started thinking of a recipe to make so I could justify ordering a case from Amazon.
As much homemade ice cream as I've made, I've never tried to make a sherbet. Ecto Cooler has citrus flavors, so it seemed like the ideal application. (And I desperately wanted to try it in a lime sherbet margarita!)
Sherbet is easy to make because it is essentially your main flavoring ingredient (fruit juice or in our case, Ecto Cooler) + milk. I also add a little sweetened condensed milk to make it a little creamier and sweeter.
I use a very simple (and cheap) ice cream maker. If you don't have one, you can just pour the ingredient mixture straight into a bread pan, glass pyrex dish, or similar container.
This post contains affiliate links (when you buy we make a little money at no cost to you). See our disclosure for more information.
I hope you enjoy eating this Ecto Cooler Sherbet Ice Cream while wearing a slap bracelet and watching the original Ghostbusters. I guarantee your inner 90s kid will be satisfied.
Print
Ecto Cooler Sherbet Ice Cream Recipe
Hi-C Ecto Cooler gives this homemade sherbet a unique citrus flavor. 
Author: Jessica Pinney
Prep Time: 5 mins
Cook Time: 30 mins
Total Time: 35 mins
Yield: 6 1x
Category: Dessert
Cuisine: American
Ingredients
30 oz Hi-C Ecto Cooler (They come in juice boxes or cans)
1 Cup Whole Milk
1/8 Cup Sweetened Condensed Milk
Instructions
Mix all three ingredients together in a large bowl until well combined.
Pour into your ice cream maker, mix according to manufacturer's directions. I mix mine for 15-20 minutes.
Pour into a glass dish with lid, or similar ice cream container. A bread pan and saran wrap will work in a pinch. Freeze for at least 2 hours before serving.