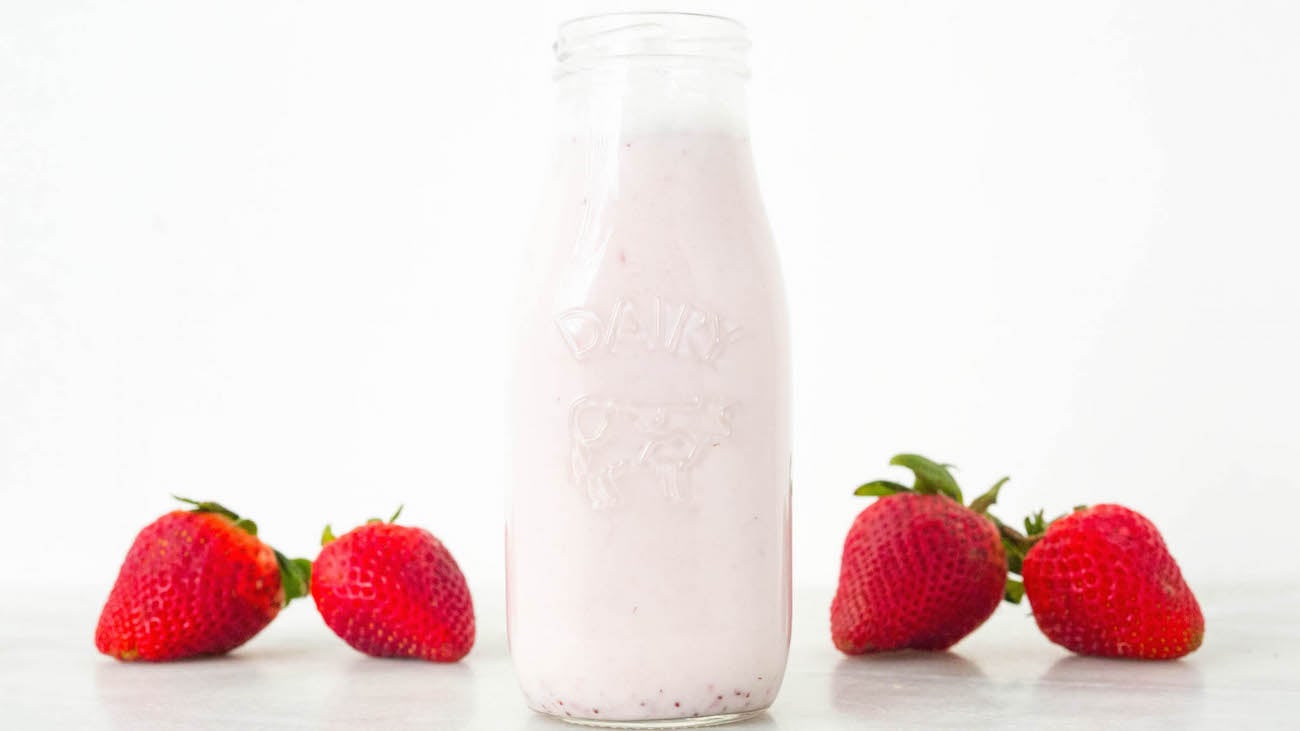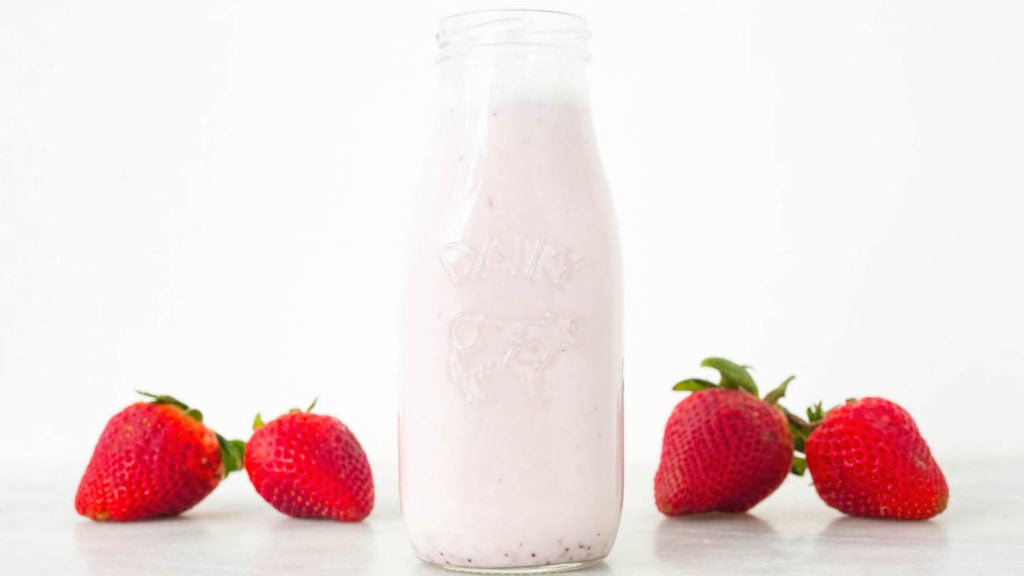 When I was a kid, it seemed like every other kid was alllllllllll about that chocolate milk life. Not me. I wanted to chug strawberry milk by the gallon.
Back then, I thought the way to make strawberry milk was to squeeze a yellow bottle of factory-made syrup into my cup. Now that I'm older and wiser, I know that yellow bottle of syrup contains exactly 0% strawberry.
I wanted to make myself a genuine homemade glass of strawberry milk bursting with real strawberry flavor.
I was blown away by the result. It was so good that even Janette, who supposedly hates strawberry milk, will regularly ask me to mix her up a glass.
Ingredients
Strawberries – Fresh strawberries at peak ripeness will yield the best flavor.
Sugar – Use standard white granulated sugar.
Water – You'll need a bit of water to make the strawberry syrup. From the tap, purified, and bottled are all good choices.
Milk – You can use any kind of milk or milk alternative that you prefer. Whole milk will yield the richest flavor.
How To Make
Add all ingredients except milk to your saucepan. Bring to a boil, then reduce eat to a low simmer for 10 minutes. Remove from heat and allow to cool for 10-15 minutes.
Add to a bender and puree the strawberry sauce. Place sauce in a jar and refrigerate until cold (about an hour).
Pour a glass of cold milk. Add strawberry sauce and stir to combine. Enjoy your strawberry milk!
Tips
Add vanilla bean for extra flavor when simmering the strawberry sauce.
Print
Strawberry Milk Recipe
This healthier version of strawberry milk features homemade strawberry purée.
Author: Jessica Pinney
Prep Time: 5 mins
Cook Time: 15 mins
Total Time: 20 mins
Yield: 4 1x
Category: Drinks
Cuisine: American
Ingredients
2 Cups Strawberries, sliced
1/2 Cup Sugar
1/2 Cup Water
8 oz Milk (per serving)
Instructions
Place strawberries, sugar, and water into a saucepan. Bring to a boil, then reduce heat and simmer for 10 minutes.
Pour into a blender and puree.
Place puree in a jar, then seal and refrigerate until cold (30-60 minutes).
When ready to make strawberry milk, add 3-4 tablespoons of puree per 8 oz of milk. Stir well, then enjoy!