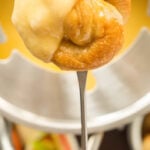 Ingredients
Beer Cheese Fondue
1

clove Garlic

10 oz

Sharp Cheddar, shredded

6 oz

Gruyere, shredded

1 Tablespoon

Flour

1/2 tsp

Salt

1/4 tsp

White Pepper

1 Cup

Beer (Lager)
Mini Soft Pretzels (makes about 32 mini pretzels)
1 cup

warm water

1/2 Tablespoon

+

1 Tablespoon

sugar

1/2

Packet of Active Dry Yeast (

1 1/8 teaspoon

)

2 1/2

–

3

cups flour

1/2 tablespoon

salt

1 teaspoon

Canola oil

1/8 cup

baking soda

1

egg
Coarse salt
Bacon Wrapped Chicken Bites
1

lb Chicken Breast, cut in to cubes

1

lb Bacon

2/3 Cup

Brown Sugar, packed

2 Tablespoons

Chili Powder
Homemade Potato Chips
1

Russet Potato

1/2 tsp

Salt

1/4 tsp

Garlic Powder
Pigs In A Blanket
About

20

mini sausages (I used chicken & apple)

1

Can of Crescent Rolls
Instructions
Beer Cheese Fondue
Cut the garlic in half. Rub the cut ends all around the bottom and sides of the pot.
In a large bowl, combine shredded cheeses, salt, white pepper, and flour.
Add beer to a saucepan and bring to a bubble over medium heat.
Reduce to a simmer and then begin adding the cheese, one handful at a time, stirring constantly with a wooden spoon.
When all the cheese is fully melted, transfer to your fondue pot and serve.
Mini Soft Pretzels
Mix together the warm water and 1/2 tablespoon sugar in the bowl of an electric mixer. Sprinkle with the yeast and let sit for 10 min. (yeast should foam up).
Add 1 cup of flour to yeast, and mix together on low until combined. Add the salt and 1 and a half more cups of flour. Beat on medium low until the dough pulls away from the sides of the bowl. Add the last 1/2 cup of flour and knead on low for 5 min. or so. (If the dough still seems wet and sticky add another 1/2 cup of flour).
Transfer the dough into a large bowl coated in the oil. Turn the dough to cover all sides with the oil as well. Cover with a towel and leave in a warm place for 1 hour. The dough should double in size.
Heat the oven to 450 degrees. Lightly spray a baking sheet or two (depending on how big your sheets are. I have once giant one) with cooking spray or cover with parchment paper.
Punch down the dough and transfer to a lightly floured board. Knead once or twice and divide into 32 pieces (These pretzels once cooked were about 1 1/2 – 2 inches wide). Wrap in plastic.
Roll one piece of dough at a time into a 10-12 in strip. Twist into a pretzel shape and transfer to the prepared baking sheets. Cover with a towel and continue to form all pretzels. Let pretzels rest until they rise slightly, about 10-15 min.
Fill a large, shallow pot or saucepan with 2 inches of water. Bring to a boil. Add baking soda (be careful, it foams up quickly) and 1 tablespoon sugar. Reduce to simmer and place 4-6 pretzels in the water. Poach 1 minute on each side and place back on the baking sheet. Repeat process for all pretzels.
Beat 1 egg with 1 tablespoon water and brush each pretzel with a bit of the glaze. Sprinkle with coarse salt and bake for 10-12 min or until golden brown. Let cool on wire rack.
Eat warm or keep at room temperature for a couple days.
Bacon Wrapped Chicken Bites
Cut each slice of bacon into thirds and wrap around the chicken breast cubes. Secure with a wooden toothpick.
Combine brown sugar and chili powder in a small bowl. Dredge bacon wrapped chicken in the mixture.
Place chicken on a baking sheet or stone that has been coated in non-stick spray. Bake at 350° for 30-35 minutes, until bacon is crispy.
Homemade Potato Chips
Preheat your deep fryer or some oil in a pan to 325°.
Slice the potato at the thinnest setting on a mandolin slicer.
Drop the potatoes in the oil and cook for a few minutes until crispy.
Transfer to a paper bag filled with the salt and garlic powder. Shake until chips are coated.
Pigs In A Blanket
Preheat oven to 375°.
Cut each crescent roll into narrow thirds. Wrap each third around one sausage.
Place on a baking sheet or stone and cook for 12-15 minutes, until crescents are beginning to turn light brown.