Whip up some homemade garlic bread quickly and easily in the air fryer. It's a stress-free dinner side dish that the whole family loves.
Garlic bread makes every single meal better! It goes with absolutely everything.
I'm used to making it often, because it's one of my wife's favorite things. Lately we've been having it with bison meatballs, Mexican meatloaf, and honey lemon pepper wings.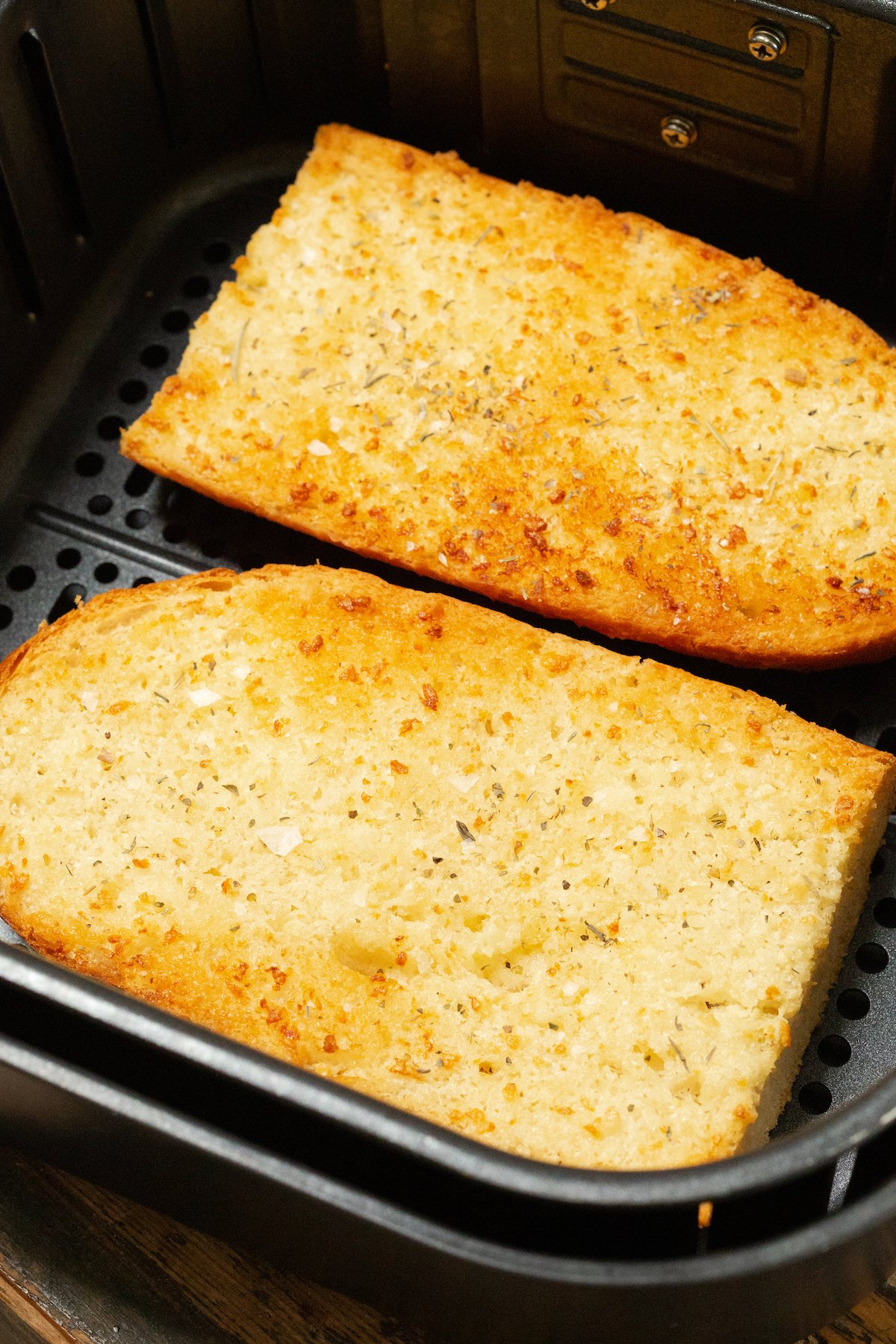 Learning how to make it in the air fryer has been a game-changer!
It's so hot here during the summer that not having to turn the oven on and heat up the house just for bread has been a blessing.
I love that I can just "set it and forget it" instead of having to watch how fast it's browning under the oven broiler.
Ingredients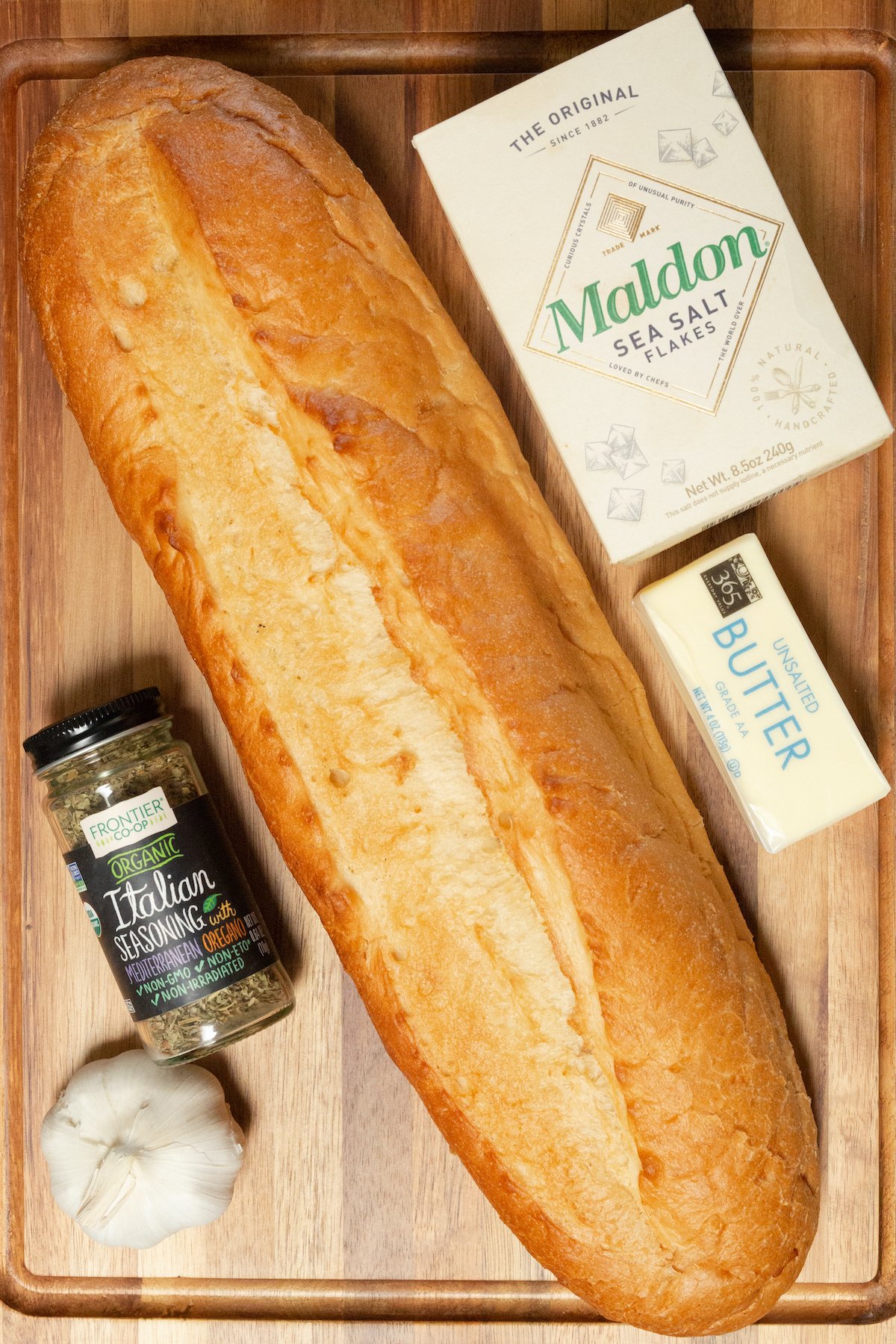 Bread – You can use any bread you'd prefer. I went with a soft french loaf, which is what most grocery stores use for their garlic bread.
Garlic – Fresh garlic always yields the best flavor. You can use a garlic mincer for convenience.
Butter – I use unsalted butter, then sprinkle salt on top after the bread is baked. If you use salted butter, skip or reduce the amount of salt you use on top of the bread.
Salt – Maldon salt flakes are my go-to finishing salt. If you use table salt, you'll need to reduce the amount.
Italian Herbs (optional) – I always sprinkle dried Italian herbs on my garlic bread. You can leave this out if you'd prefer.
This post contains affiliate links (when you buy we make a little money at no cost to you). See our disclosure for more information.
How To Make
Mix together the softened butter and minced garlic.
Slice your bread.
Spread the butter and garlic mixture on the bread.
Place in air fryer and cook at 350F for 4-5 minutes.
Remove from air fryer when the bread has slightly browned.
Top with salt and Italian herbs.
Tips
Be sure to slice your bread in half as evenly as possible. If your bread pieces are an uneven thickness, some parts might burn before other parts are done.
Want it cheesy? Add freshly shredded parmesan or mozzarella cheese after cooking, then bake an additional 1 minute.
Serve with marinara sauce for dipping.
Leftovers
Store leftovers in an air-tight container in the refrigerator for up to 3 days.
To reheat, place bread back in the air fryer and cook for three minutes at 350F.
Print
Air Fryer Garlic Bread
Author: Jessica Pinney
Prep Time: 2 minutes
Cook Time: 4 minutes
Total Time: 6 minutes
Category: Bread
Cuisine: American
Ingredients
Half Loaf of Soft French Bread
1 Stick of Unsalted Butter, softened
2–3 Cloves of Garlic, minced
1 Teaspoon Maldon Sea Salt Flakes
Pinch of Dried Italian Herbs (optional)
Instructions
Slice your french loaf.
Mix together the softened butter and freshly minced garlic.
Spread the garlic and butter mixture on top of the sliced bread.
Place in the air fryer and cook for 4-5 minutes at 350F.
Remove from the air fryer and sprinkle salt and Italian herbs on top.
Serve immediately and enjoy!