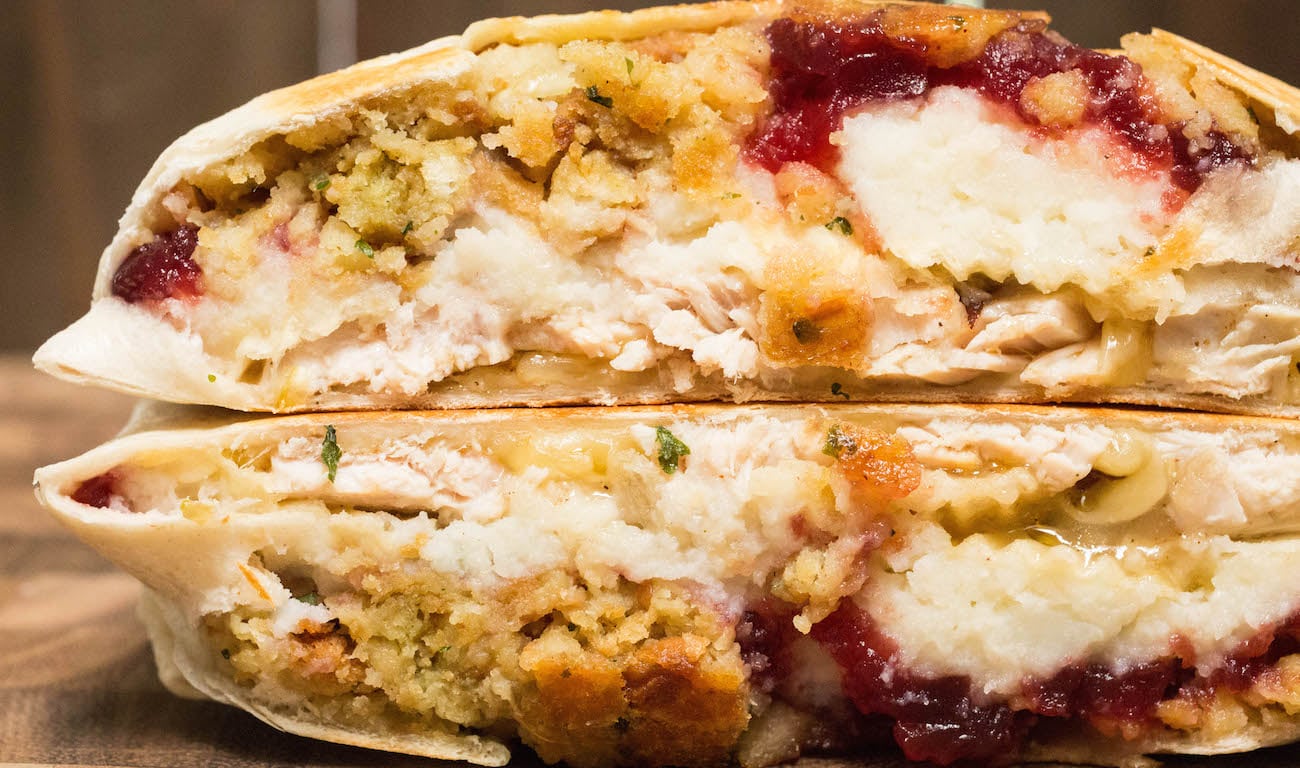 Every year I try to do something a little crazy with my Thanksgiving leftovers. Previously, I've posted recipes for my Thanksgiving Leftovers Pizza and a Leftovers Monte Cristo.
This year, I'm remixing a fan-favorite: our homemade crunchwrap supreme. In this holiday crunchwrap version, I stuff all my Thanksgiving leftovers into a tortilla along with potato chips (for the crunch) then pan-fry until it's nice and brown and crispy on the outside.
They tasted AHHHHHMAZING! Seriously, I want to stay on my couch eating these and watching holiday movies forever! I guess I'm just going to have to start smashing all my leftovers into a crunchwrap every week and hope it ends up this delicious every time!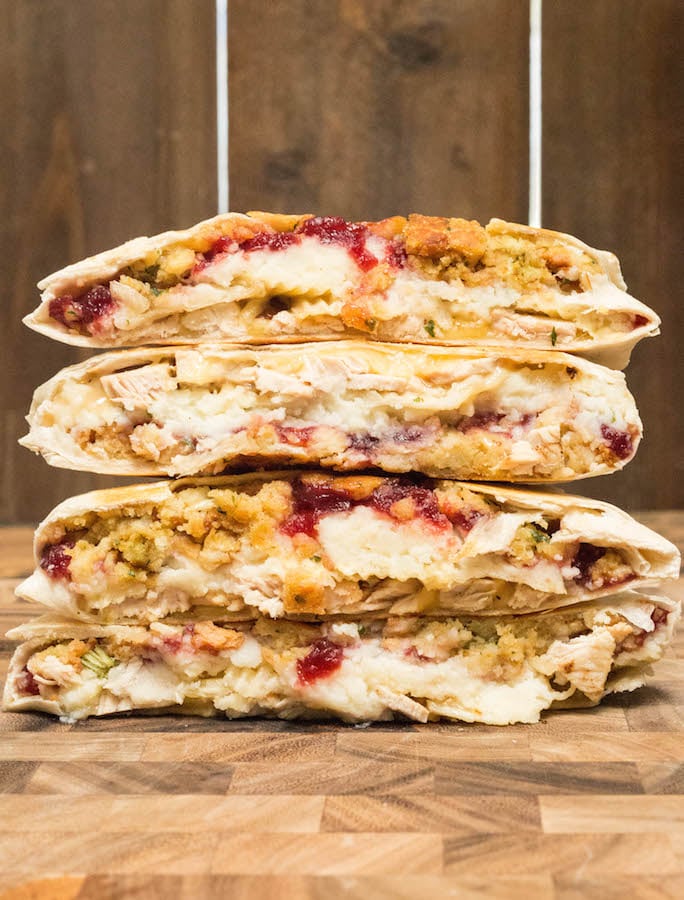 Obviously, you can switch up the ingredients depending on what leftovers you have available. I used mashed potatoes, stuffing, cranberry sauce, turkey, gravy, and shredded gouda cheese. I really wish I would've had some sweet potato fries. Stuffing those inside would've been perfection!
This recipe has officially renewed my love for crunchwraps and I'm wondering what kind I should make next? Let me know what you think in the comments!
Print
Thanksgiving Leftovers Crunchwrap Supreme Recipe
Turn your Thanksgiving leftovers into a delicious Crunchwrap Supreme with this easy recipe!
Author: Jessica Pinney
Prep Time: 15
Cook Time: 5
Total Time: 20 minutes
Yield: 1 1x
Category: Entrée
Cuisine: American
Ingredients
1/4 Cup Shredded Gouda Cheese (or substitute another mild cheese)
3 oz Leftover Turkey, cubed or shredded
1/8 Cup Gravy
1/3 Cup Potato Chips
1/4 Cup Leftover Mashed Potatoes
1/8 Cup Cranberry Sauce
1/4 Cup Leftover Stuffing
1 Burrito Size Tortilla
Instructions
Warm up leftovers in the oven or microwave.
Lay out your tortilla. Add the shredded gouda cheese in a small ring in the center of the tortilla. Place cubed or shredded turkey pieces on top. Drizzle with gravy, then add layer of potato chips.
Next, add the mashed potatoes, cranberry sauce, and stuffing.
Then, to fold into the crunchwrap, start with the bottom of the tortilla and fold the edge up to the center of the fillings. Keep doing that, folding as tight as possible, as you work your way around the tortilla.
Spray a skillet with non-stick cooking spray and heat over medium heat. Place the crunchwrap seam-side down onto the skillet. Cook for 2-3 min, until golden brown.
Flip over and cook the other side for another 2-3 min or until golden brown.
Serve immediately.