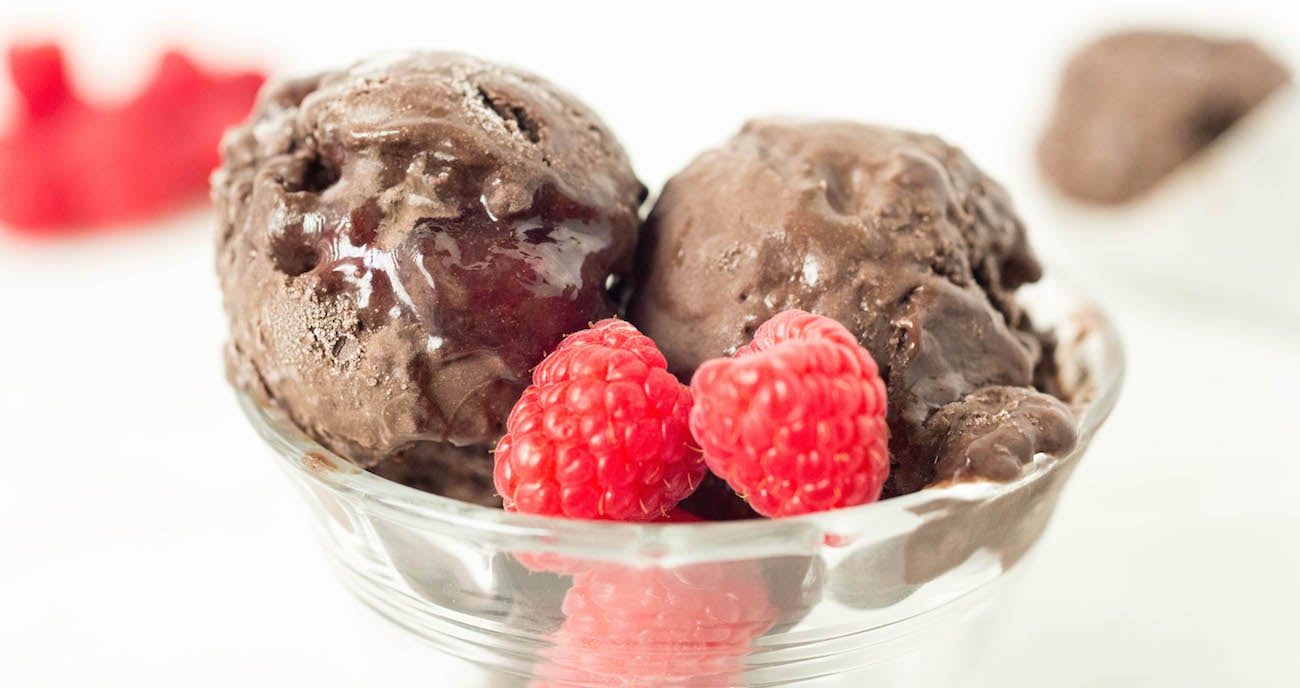 When I bit into dark chocolate as a kid, I always thought it was way too bitter. Now, as an adult, after my taste buds changed and became more refined, I'll take dark chocolate over milk chocolate pretty much any day. It is DELICIOUS!
You can get dark chocolate in many forms these days, but what has spoken to me lately….gelato!!!!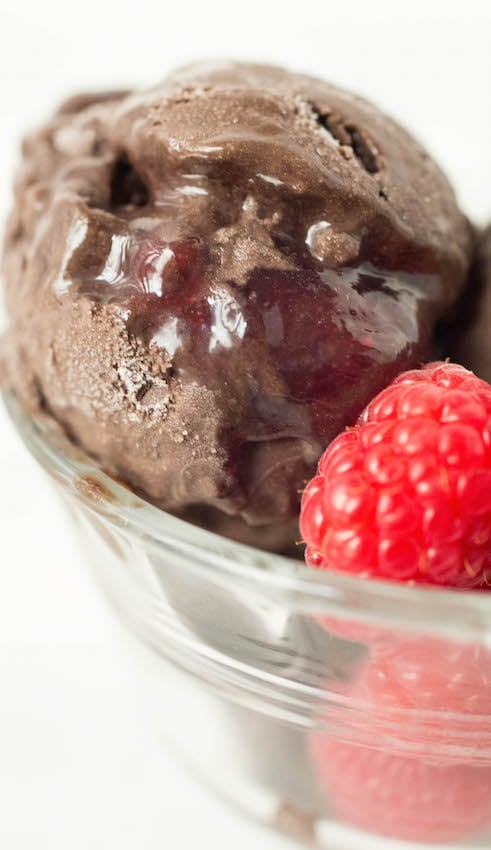 I knew I would have to add a little somethin' somethin' to take my gelato to the next level, so I decided to make a raspberry sauce to swirl in.
Making the sauce is the easiest thing to create…only 2 ingredients!
This dark chocolate gelato is very rich, but with the sweet raspberry sauce, everything balances out and goes down real smooth.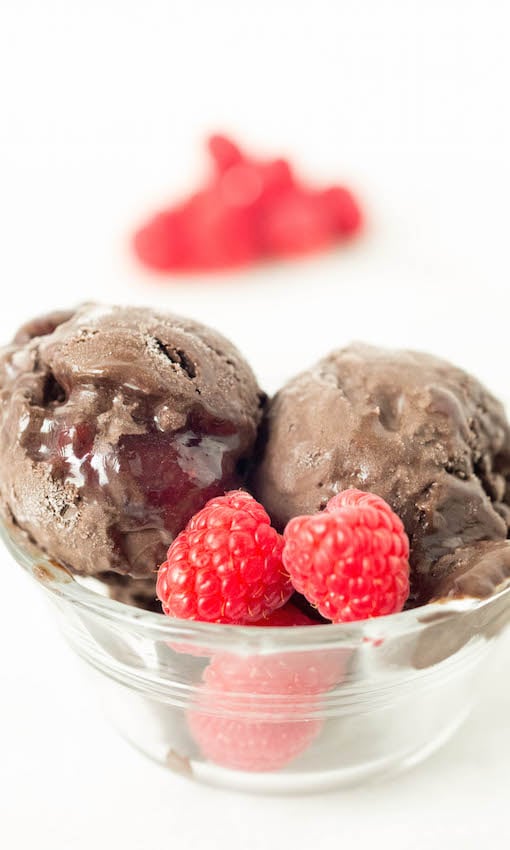 If you are a dark chocolate fan such as myself, this gelato is for you! Test it out, mix with another fruit-flavored sauce, or make sans sauce. Either way, I don't think you'll be disappointed. ?
Print
Raspberry Dark Chocolate Gelato
Rich & creamy homemade dark chocolate gelato with a sweet raspberry swirl. 
Author: Jessica Pinney
Prep Time: 10 mins
Cook Time: 2 hours
Total Time: 2 hours 10 mins
Yield: 4 1x
Category: Dessert
Cuisine: Italian
Ingredients
Gelato
2 1/4 cups whole milk
3/4 cup heavy cream
3/4 cup powdered sugar
2 tbsp cornstarch
1/2 cup dark cocoa powder, sifted
4 oz bittersweet or over 70% cacao chocolate, chopped
Raspberry sauce
2 cup raspberries
1 cup sugar
Instructions
In a medium saucepan, whisk together 1 1/4 cup of the milk with the cream, powdered sugar, cornstarch, and cocoa powder.
Place the pan over medium heat and continue to whisk constantly for 7-10 min, or until the mixture bubbles and thickens.
Remove from heat, add the chopped dark chocolate, and whisk until the chocolate is completely melted. Add in remaining 1 cup of milk and whisk thoroughly.
Place plastic wrap over the surface of the mixture and refrigerate for 1 1/2 to 2 hours or until the mixture is cooled completely through.
While the mixture is cooling, prepare your raspberry sauce. In a saucepan, combine the berries and sugar and bring to a boil over medium-high heat. Continue boiling for about 5-8 min, stirring occasionally. Let cool slightly and then strain through a mesh strainer to remove the seeds. Refrigerate until cold.
Once the gelato mixture is cool, strain mixture through a fine mesh strainer and pour into an ice cream maker. Freeze according to the manufacturer's instructions (for my ice cream maker it said to churn for 15-20min. For the gelato I let it churn for 10 min and it seemed ready to go).
Layer the raspberry sauce and gelato into an airtight container. Spoon a couple spoonfuls of sauce on the bottom, then a layer of gelato, more sauce, gelato, and some sauce on the top.
Freeze for 2 hours before eating.