Cereal topped donuts are a huge thing right now. I support this 100%.
There's just something so right about a delicious cake donut topped with some sugary cereal. Breakfast on top of your breakfast, genius!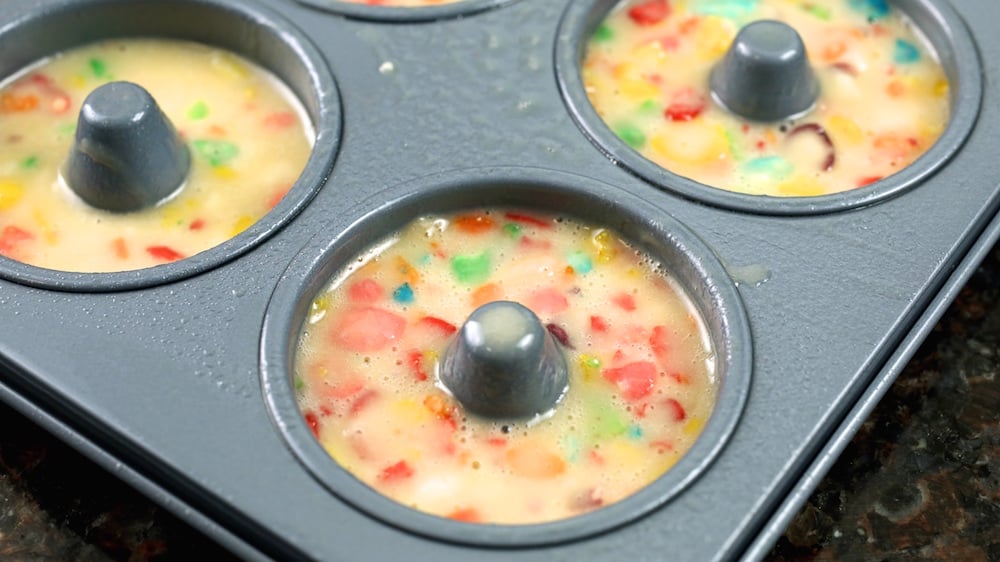 I recently bought a mini-donut pan ($9! Practically a steal!), and knew immediately I wanted to fill it with itty-bitty cereal donuts. I decided to bake them with the cereal on top and in the batter, 'cause I'm a freaking maniac in the kitchen.
This post contains affiliate links (when you buy we make a little money at no cost to you). See our disclosure for more information.
One thing to note about these tiny treats, they are really only good fresh. If they sit overnight, the cereal goes stale and also gets soggy from the icing. My advice? Eat them all in a single sitting so they don't go bad. Problem solved!
Print
Mini Fruity Pebbles Donuts Recipe
Mini donuts baked with fruit pebbles batter, then covered in cereal milk icing and more fruity pebbles. 
Author: Jessica Pinney
Prep Time: 15 minutes
Cook Time: 4 minutes
Total Time: 19 minutes
Yield: 4 1x
Category: Dessert
Cuisine: American
Ingredients
Donuts:
3/4 cup flour
1/2 cup fruity pebbles cereal, crushed
1/2 cup sugar
1 tsp baking powder
1/4 tsp salt
1/2 cup milk
1 1/2 tsp vinegar
1 egg
1 tsp vanilla
2 tbsp vegetable oil
For the frosting:
1 Cup fruit pebbles for topping
Milk, as needed
1 tsp vanilla
1/4 cup melted butter, cooled
1 1/3 cups cup powdered sugar
Instructions
Preheat your oven to 350 degrees.
Combine flour, crushed fruity pebbles, sugar, baking powder, and salt in a large bowl.
In another bowl, whisk together milk, egg, vinegar, vanilla, and vegetable oil. Combine with flour mixture until a smooth batter forms.
Spray your mini doughnut pan with non-stick spray. Use an icing bag to pour the batter into the pan cavities. Fill each hole about halfway with batter.
Bake for 4 minutes or until they spring back when gently poked with your finger. Insert a toothpick and pull out to see if they're done. (If toothpick is clean, they're ready.) Let doughnuts cool while you prepare the frosting.
Whisk together powdered sugar, butter, and vanilla until frosting comes together, adding a splash of milk as needed to loosen it if it's too thick.
Dip half of the doughnut into the frosting, then cover with fruity pebbles cereal. Let sit on cooling rack until frosting stiffens up.