This recipe is sponsored by Encha. All opinions are mine alone.
Over the past few years, I've become one of the many people who are obsessed with matcha.
I am rather sensitive to caffeine and had to stop drinking coffee on a regular basis because of it. But what blogger can properly function without any caffeine at all?!?
None that I know!
So, I started occasionally making matcha drinks like the Copycat Starbucks Matcha Latte.
But sometimes even that could be too much. What if I wanted even less caffeine than a matcha latte? This train of thought led me to create my own matcha gummy bear recipe.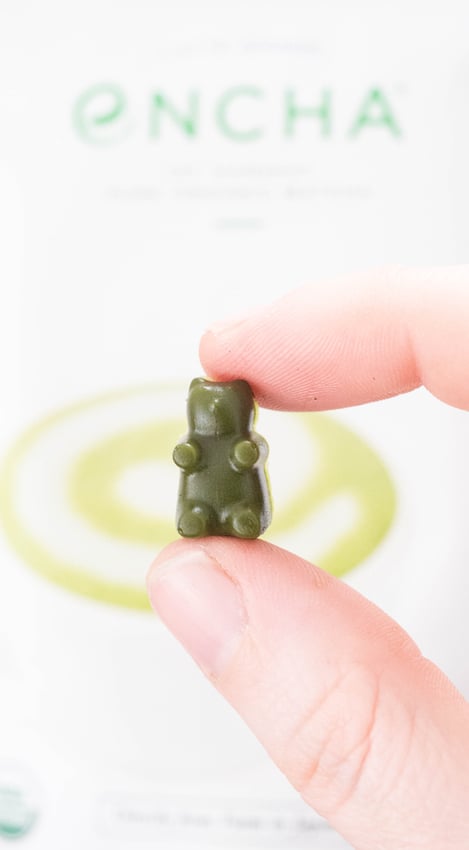 These little guys came out so adorable, it's almost hard to eat them! (Though I'll admit, sometimes I really do enjoy biting their green little heads off.)
To make these matcha gummy bears, I used my favorite brand of matcha, Encha. They are an exclusively organic matcha brand.
A few years ago, I was working in pre-production on a documentary about tea. One of the most alarming things I learned was that virtually all tea, even the expensive high-end brands, are covered in pesticides.
Keeping harmful chemicals out of my body is very important to me, so I was thrilled to find Encha's organic matcha powder.
I have found Encha to have the best taste of any matcha that I've tried. There are no additives or preservatives in their matcha powder, just ground organic tea leaves.
At their organic farm in Japan, the matcha is shaded for 3 weeks before harvest, which helps produce extra theanine. Theanine combined with the low levels of caffeine helps give you "Zenergy" – a calm, focused energy that doesn't result in jitters or a crash.
As someone who is sensitive to caffeine, this is exactly what I need!
In addition to giving you Zenergy, matcha can also stimulate your metabolism and help with weight management.
I love eating a handful of these matcha bears in the morning for an energy boost or snacking on a few after lunch to help get me through the rest of the day.
I wanted to keep the ingredients minimal, so these bears simply consist of water, matcha, honey, and gelatin. You can substitute the honey with agave or another sweetener of your choice. I have also tested this recipe with Agar, so it can easily be made vegetarian.
Eating 25 matcha gummy bears is about the equivalent to one matcha latte.
I hope you enjoy getting your daily dose of matcha with these little bears as much as I do!
This post contains affiliate links (when you buy we make a little money at no cost to you). See our disclosure for more information.
Print
Matcha Gummy Bears Recipe
Matcha gummy bears are a healthy snack that give you a boost of caffiene. 
Author: Jessica Pinney
Prep Time: 5 mins
Cook Time: 10 mins
Total Time: 15 mins
Yield: 10 1x
Category: Snack
Cuisine: American
Ingredients
1 Cup Water
1 Tablespoon Honey
2 1/2 Tablespoons Gelatin
2 Tablespoons Encha Matcha
Instructions
Heat water over medium-high heat, bringing it almost to a boil.
Add honey, gelatin, and matcha.
Stir vigorously for a few minutes until matcha and gelatin are both completely dissolved.
Set three gummy bear molds on top of a baking sheet. Fill molds with an eyedropper, or evenly distribute the liquid between the molds, then use a small spatula to fill in all the cavities and scrape off the excess.
Refrigerate for at least 4 hours, or until bears have set.
Store leftovers in an airtight container in the refrigerator.