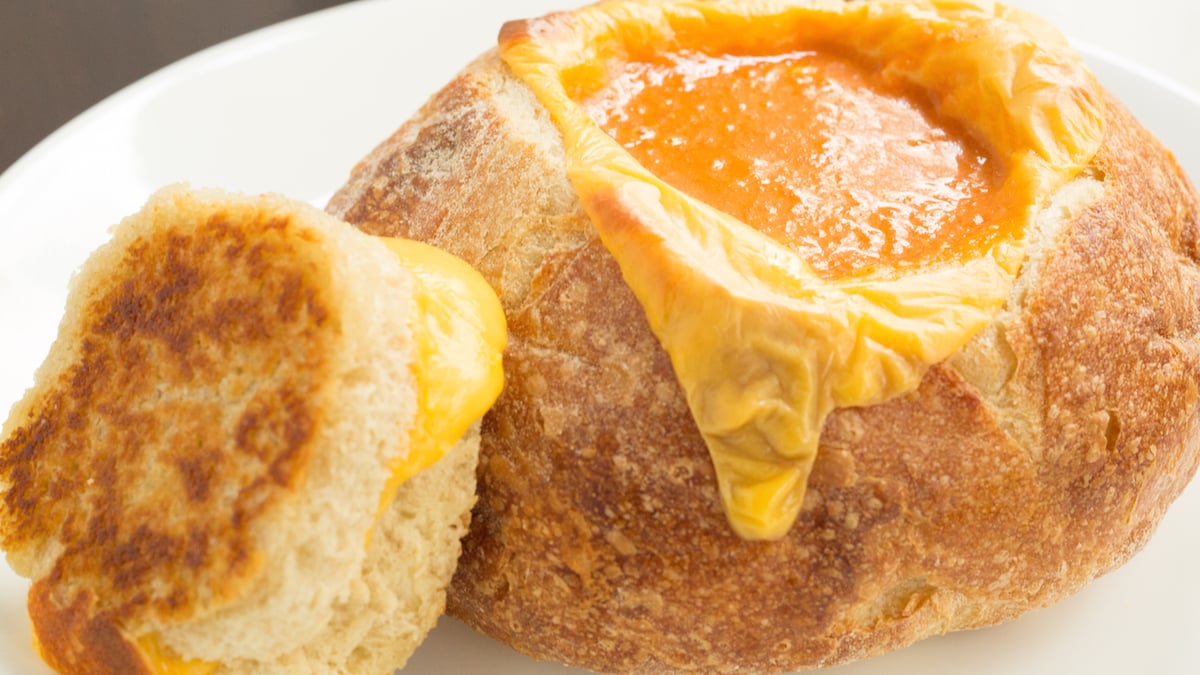 It's raining. In Los Angeles. Allllll week. 🙁
I know you guys in the rest of the country are like "who cares, it's just some rain", and I get it. I grew up in Florida where it practically rains every day. Rain never bothered me in the least. Driving in it there wasn't necessarily enjoyable, but it wasn't panic attack inducing either. Here in LA, even 1/2″ of rain can wreak havoc. Our freeways and roads have a lot of built up oil on them , so when it finally rains, the roads are extra slick. Not to mention everything gets very soggy and we start having crazy mudslides. Ahhh!
…So when it rains, I have to barricade myself in the house. And that means I probably also need some comfort food. Because I'm me, I don't just need comfort food, I needed comfort food porn. Thankfully, I follow Buzzfeed's "Tasty" on Facebook. These people are food porn savants. They recently posted a video for a tomato soup grilled cheese bowl and I thought this would be the perfect time to let my goat cheese tomato soup recipe shine.
If I'm going to eat tomato soup, I want it to be creamy. A little heavy cream is good, but it doesn't add all that much flavor, so I prefer to also use goat cheese. I think the slightly tangy flavor of it is the perfect complement to the tomatoes.
Ladle that creamy goodness into a grilled cheese bread bowl and dip the top of the bowl (that you've turned into a cute mini grilled cheese) and you seriously have the perfect rainy day lunch. I give it a 10/10.
Whatever the reason you need comfort food, I hope the goat cheese tomato soup in a grilled cheese bowl helps!
Print
Goat Cheese Tomato Soup in a Grilled Cheese Bread Bowl Recipe
The ultimate comfort food: creamy goat cheese tomato soup served in a savory grilled cheese bread bowl.
Author: Jessica Pinney
Prep Time: 5 mins
Cook Time: 35 mins
Total Time: 40 mins
Category: Soup
Cuisine: American
Ingredients
Goat Cheese Tomato Soup
2 Tbsp Olive Oil
1 Yellow Onion, diced
2 Cloves Garlic Minced
1 28 oz Can of San Marzano Tomatoes
1 Tbsp Tomato Paste
3 Cups Chicken Stock
1/2 tsp Salt
1/2 tsp Pepper
1/4 Cup Heavy Cream
4 oz Goat Cheese
Grilled Cheese Bowl
Round Bread (I used Baby Boule)
3–4 American Cheese Slices
Butter
Instructions
Heat olive oil over medium-low heat in a large pot. Add diced onion and heat about 5 minutes, until translucent.
Add the garlic and cook 1-2 more minutes.
Add tomatoes, tomato paste, chicken stock, salt, and pepper. Stir. Turn the heat up a little and cook 15-20 minutes.
Using a food processor or blender, blend the soup on low or by pulsing until smooth. You may have to work with the soup in batches to accomplish this.
Transfer soup back to the pot. Add heavy cream and goat cheese. Reheat over the medium low heat until you reach the desired temperature.
Preheat the oven to 375°.
Cut the top of the bread off. Using a small knife, carefully cut around the inside of the bread and scoop at the inside. Save this for later, as we will be making a tiny, adorable grilled cheese with it.
Butter the inside of the bread and place the slices of cheese around the inside of the bread bowl.
Bake 5-10 minutes in the preheated oven, until cheese has melted.
While the bread is baking, cut the innards of the bread that we scooped out in half. Butter both sides, put cheese in the middle, then cook in a skillet over medium heat until both sides are brown and cheese is melted.
Remove bread bowl from the oven, fill with the goat cheese tomato soup, and enjoy!