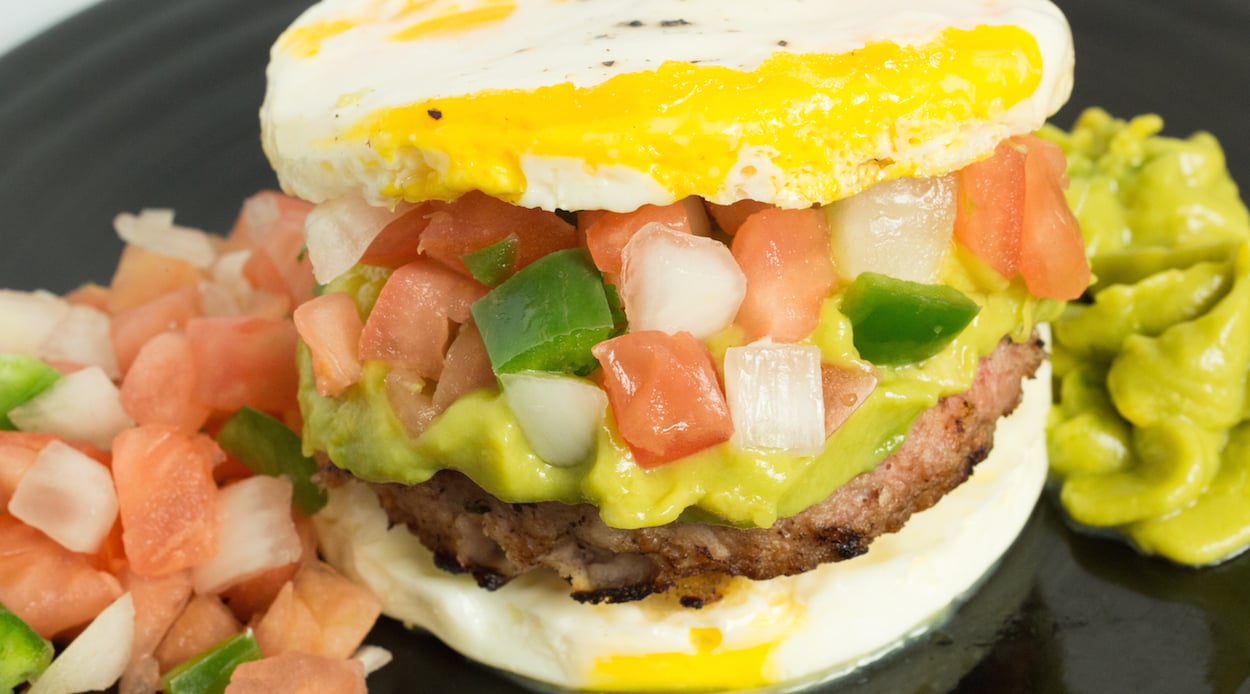 In 2014, I lost a bunch of weight on the only successful diet I've ever been on. In just a few months , I was able to lose over 30lbs. I believe the diet was successful for two reasons: 1) I was never hungry because all the protein really fills you up, 2) one day a week I had a "cheat day" and ate whatever I wanted.
This post contains affiliate links (when you buy we make a little money at no cost to you). See our disclosure for more information.
What is this magical weight loss guide? The "Slow Carb Diet" from Tim Ferris' book "The 4 Hour Body
". I won't go into all the specifics, but the gist is you basically eat meats and veggies (no sugar, no carbs) and make sure to get 20-30 grams of protein at every meal.
To get my 30 grams of protein in, I generally eat 3 hard boiled or scrambled eggs for breakfast. This gets old really fast. I have a real passion for breakfast sandwiches, and thought it would be fun to try this carb-less version using eggs for the bun. Because I love toppings, I had to throw some guac and pico on top.
I usually make the sausage patties myself, but of course you can use store-bought as well. If you are going strict slow carb, make sure to leave the green apples out of the recipe. I leave them in because I just like to live on the edge like that.
To make the eggs, you will need at least one 3.5″ biscuit cutter
, preferably two. If you only have one, you will just have to make them one at a time, and because it takes a few minute the first egg will probably get cold. Nobody likes cold eggs, especially first thing in the morning!
You can get creative with the toppings if your heart desires. If you do something different and it works out, please let me know so I can try it!
Print
Slow Carb Breakfast Sandwich Recipe
On the slow carb diet and missing breakfast sandwiches? This low-carb sausage "mcmuffin" with egg buns is the perfect solution. 
Author: Adapted From Nom Nom Paleo
Prep Time: 10 minutes
Cook Time: 15 minutes
Total Time: 25 minutes
Category: Breakfast
Cuisine: American
Ingredients
Slow Carb Breakfast Sandwich
2 Tablespoons Butter or Ghee, divided
1/4 lb Raw Breakfast Sausage (you can use my recipe below or go with store-bought)
2 Eggs
1/4 Cup of Water
Guacamole
Pico De Gallo
Salt
Pepper
Homemade Pork Sausage Recipe
1 Tablespoon Ghee
1 Small Onion, minced
1 Green Apple, peeled & minced
1 lb Ground Pork
1 Tablespoon Fresh Sage, chopped
1 tsp Ground Fennel or Fennel Seed
1 tsp Salt
1/2 tsp Pepper
Instructions
Heat a skillet over medium heat. Add ghee. When shimmering, add the onions and sauté until translucent, about 3-4 minutes. Add the apple and cook until soft, another 4-5 minutes. Allow to cool.
In a large bowl, combine the pork, apple, onion, sage, fennel, salt and pepper.
Form into 4 sausage patties, using one of your biscuit cutters to achieve the correct size.
Heat the skillet over medium heat again. Add a tablespoon of ghee. When shimmering, add the sausage patty. Cook the sausage fully, about 2-3 minutes each side. Set aside.
Take two small bowls and crack an egg in each. Pierce the yolks with your fork and give it one little stir.
Grease each biscuit cutter with a little bit of ghee.
Heat a pan (make sure you have a lid) over medium high heat. Add the remaining tablespoon of ghee. When it is shimmering, place the biscuit cutters in the pan. Pour one egg in to each mold. Season with salt and pepper.
Add the 1/4 cup of water to the skillet around the biscuit cutters. Turn the heat down to low and cover the pan. Cook for 3 minutes, or until the eggs are cooked through. Move to a paper towel lined plate.
Assemble your Slow Carb Breakfast Sandwich by placing a sausage on one egg, adding the guacamole and pico de gallo, then placing the other egg on top.