Preserve dragonfruit by cutting it into slices and dehydrating it with this simple recipe. Use later in food recipes, as a cocktail garnish, or to infuse water and other beverages.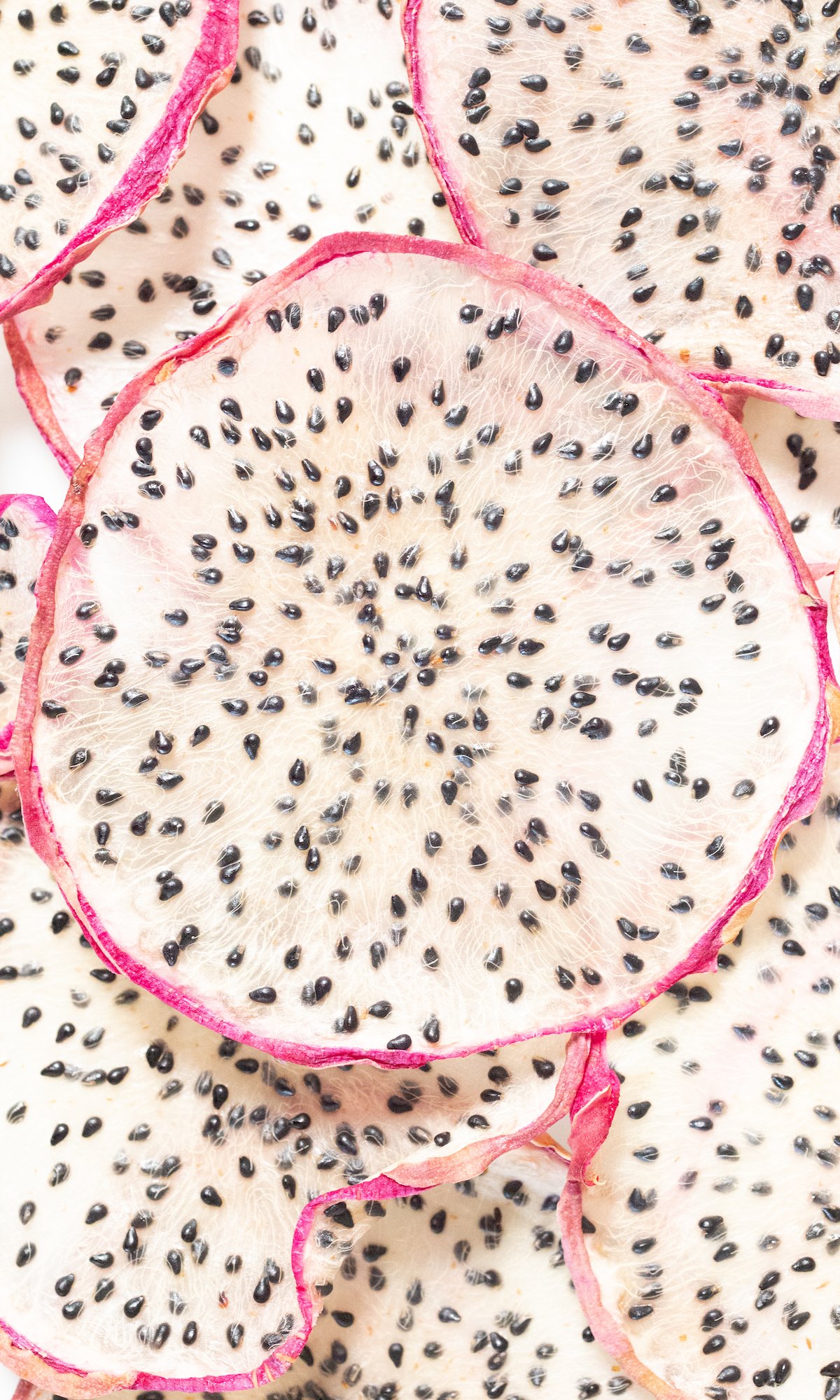 Do you have more fresh dragonfruit on hand than you can eat before it goes bad? Maybe there was a sale at the store and you're wondering how to make the most of it.
Or, you might just be wondering how you can preserve some dragonfruit to use later in the year when it isn't in season.
In any of those circumstances, the easiest thing to do is to slice and dehydrate the dragonfruit. Then you can save it for many months, using it as needed without any waste.
Ingredients
Dragonfruit – There are several different varieties of dragonfruit that have different colored skin and flesh. Any kind will work in this recipe.
Lemon Juice – Using fresh squeezed lemon juice on the fruit slices helps to prevent them from turning brown. It does not affect the flavor.
This post contains affiliate links (when you buy we make a little money at no cost to you). See our disclosure for more information.
How To Make
Slice your dragonfruit to approximately 1/8″. I use a mandoline to ensure my slices are all the same thickness.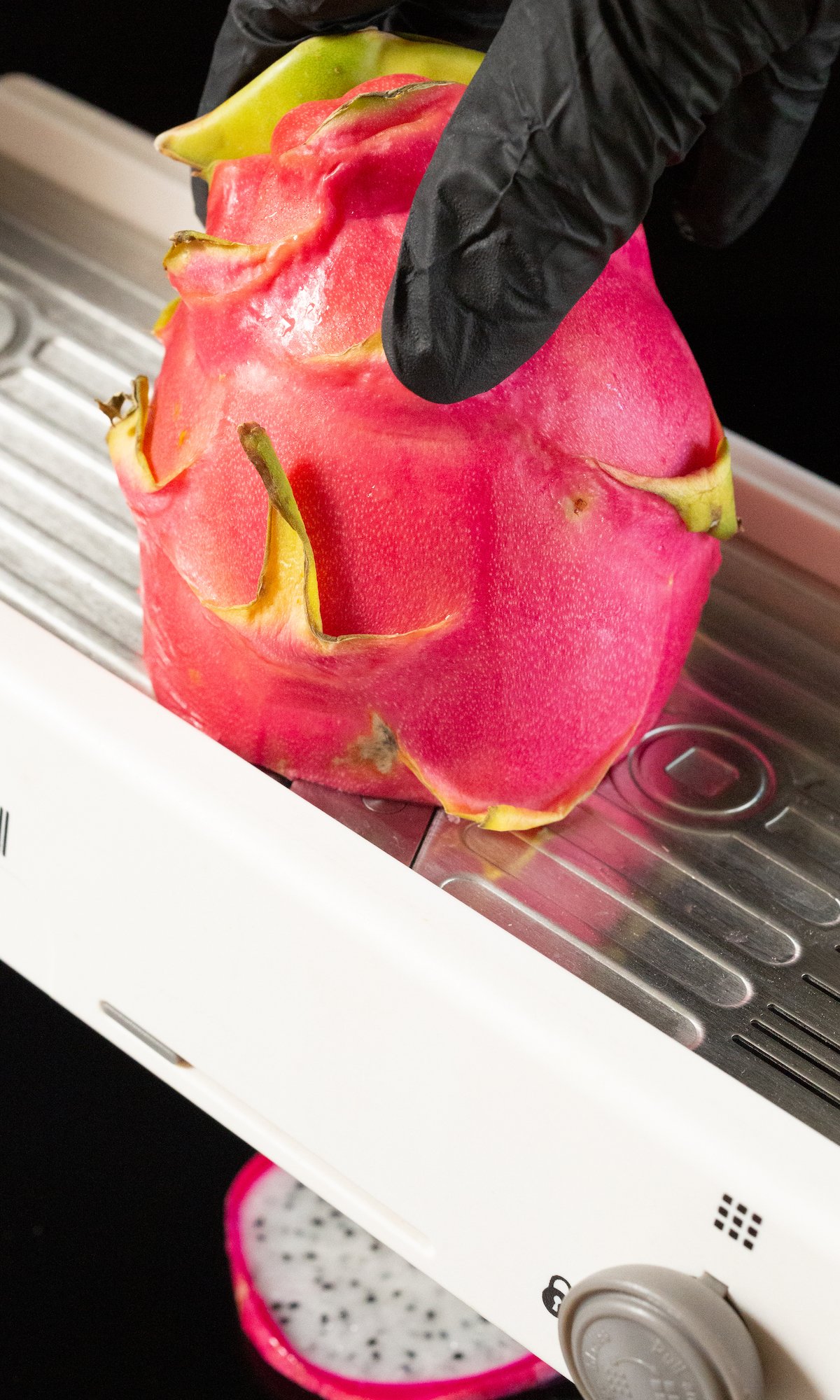 2. Cover each side of your dragon fruit with fresh squeezed lemon juice.
3. Lay slices on your dehydrator trays.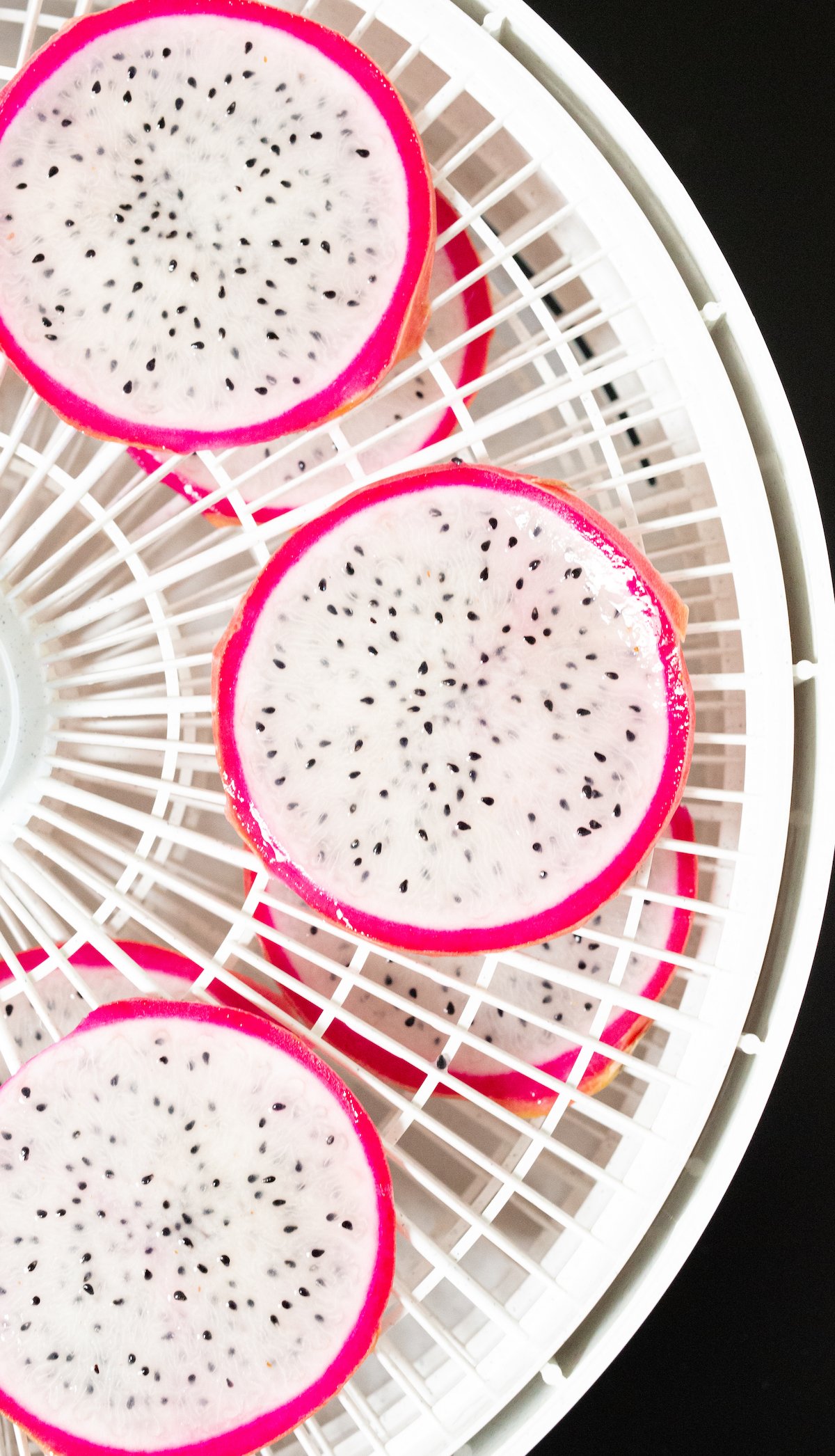 4. Dehydrate at 135F for 12 hours.
Tips
The peel is completely edible and I believe it looks aesthetically pleasing. You can, however, peel the dragonfruit before dehydrating if you'd prefer.
Want dragonfruit powder? Grind the dehydrated slices with a mortal and pestle or in a food processor until you achieve a fine powder.
Print
Dehydrated Dragonfruit
Author: Jessica Pinney
Prep Time: 5 minutes
Cook Time: 12 hours
Total Time: 12 hours 5 minutes
Category: Snacks
Cuisine: South American
Ingredients
1 Dragonfruit
1 Tablespoon Lemon Juice
Instructions
Slice dragonfruit into approximately 1/8″ thick slices with a mandoline or sharp chef's knife.
Coat each side of the slices with fresh squeezed lemon juice.
Lay slices on your dehydrator trays ensuring none of them touch.
Dehydrate at 135F for 12 hours.