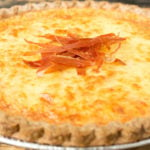 Ingredients
1

Pre-made Pie Crust (I usually get an organic wheat crust from the store's freezer)

3

Duck Eggs

1/3 Cup

Crème Fraîche (you can sub heavy cream)

1/2 Cup

Whole Milk

5 oz

Gruyere, shredded

1

Package of Bacon

1

Shallot, diced

1/4 tsp

Salt

1/8 tsp

White Pepper

2

–

4

Slices of Prosciutto
Instructions
Preheat oven to 425° .
Cook the bacon until crisp. Leave the grease in the pan. Drain bacon on paper towels and chop when cool.
Heat the grease up over medium heat. Add the diced shallot and cook for 2-5 minutes until translucent.
Mix the bacon and shallots together and evenly fill the bottom of the pie crust.
In a large bowl, mix together the duck eggs, crème fraîche, whole milk, salt, and pepper. Once combined, mix in the shredded gruyere.
Gently pour the mixture over the bacon and shallots. Spread evenly.
Bake for 25-30 minutes, until a toothpick comes out clean when inserted and removed. Cut and serve immediately.
To prepare the prosciutto, cut it into long, thin pieces. Heat up a pan over medium high heat. Place the prosciutto in the pan and cook for a few minutes, flipping occasionally. Remove and place on a paper towel until ready to top the quiche.