Make Ahead Thanksgiving Appetizer Recipes
1) Roasted Grape & Blue Cheese Crostinis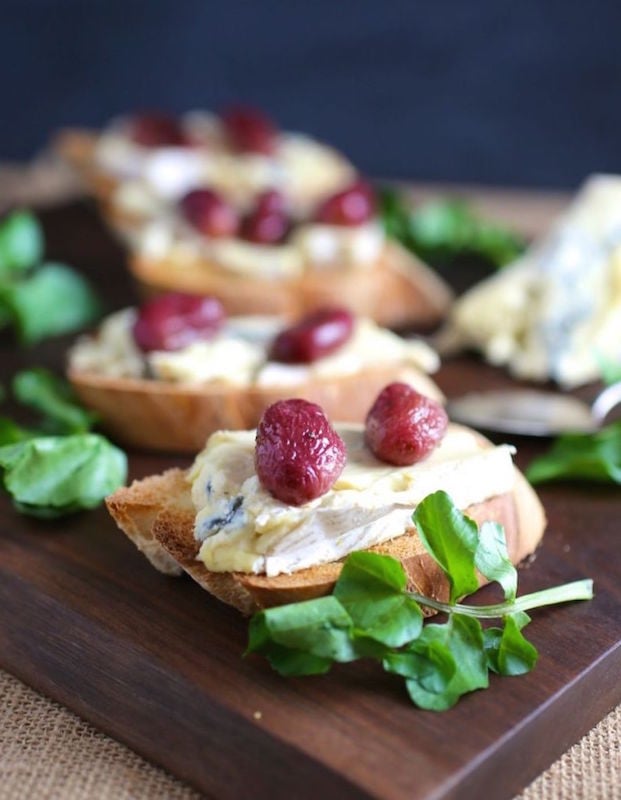 These fancy, tiny toasts are easy to make in big batches and a breeze to transport to your Thanksgiving dinner destination. The Fall flavor really comes through when you bite into the roasted grapes.
2) Prosciutto Wrapped Goat Cheese Stuffed Dates
Stuffed with pecans, thyme, and goat cheese and wrapped in salty prosciutto, these dates are an impressive Thanksgiving appetizer that can be put together in very little time.
3) Cranberry & Feta Pinwheels
Need an easy, budget-friendly appetizer? Try these creamy Cranberry & Feta Pinwheels!
4) Onion Cranberry & Pecan Cheeseball
No holiday is complete without a cheeseball! This one combines seasonal flavors like cranberry & pecan with savory onion.
5) Turkey Gouda Party Rolls with Honey Mustard Glaze
Warm, flaky croissants stuffed with Turkey & Gouda, then glazed with honey mustard? Yes, please! Shape & arrange on a baking tray, then cover with foil and pop them into the oven when ready to serve.
6) Harvest Cheese Board
Impress your guests with a seasonal cheeseboard! Erin from Platings & Pairings shows you how in just four simple steps.
7) Bacon Wrapped Brussel Sprouts with Balsamic Mayo Dip
A fall appetizer favorite — roasted brussels sprouts wrapped with crispy bacon slices, dipped in a balsamic vinegar and mayonnaise sauce. Yum!
8) Cranberry Jalapeno Cream Cheese Dip
This creamy & spicy cranberry jalapeno dip is no-cook and can be made in 10 minutes or less.
9) Crudite Platter
Olivia's Cuisine shows you how to take an appetizer classic (veggie trays) and turn it into something rustic and beautiful with her easy to follow crudite platter tutorial.
10) Thanksgiving Deviled Eggs
Put a Thanksgiving twist on deviled eggs by adding sage and shallots. These can be made up to 24 hours in advance.