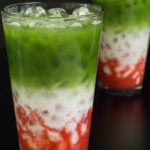 Ingredients
Strawberry Puree Ingredients
2 1/2 Cups Fresh Strawberries, sliced
1/3 Cup Sugar
1/8 Cup Water
Latte Ingredients
2–3 Tablespoons Strawberry Puree
1/3 Cup Milk
2 tsp Matcha
1/3 Cup Water
Instructions
Strawberry Puree Directions
Place strawberry slices, sugar, and water in a saucepan over medium-low heat. Simmer for 15 minutes. Set aside to cool.
Once it has cooled off slightly, add to your blender and puree. Transfer to an airtight container and place in the refrigerator until ready to use.
Latte Directions
Add the strawberry puree to the bottom of your glass. Add ice until the bottom two-thirds of the glass is full. Slowly pour the milk over the ice. Carefully add more ice until it reaches almost the top of your glass.
Add the water and matcha to a jar with a lid. Seal, then shake vigorously for 1-2 minutes until well combined. Slowly pour over the ice.
Snap a photo to share on the 'gram, then stir with your straw and enjoy!
Notes
This recipe makes enough strawberry puree for 4-6 drinks, depending on how much you use.