Just like Oprah, I LOVE BREAD!
…But I'll be honest, when I was researching new bread recipes, I was quite skeptical by some. Bread that only needs 4 ingredients and you don't have to knead it? I mean, what?!
This post contains affiliate links (when you buy we make a little money at no cost to you). See our disclosure for more information.
I'm so used to busting out our KitchenAid mixer
with its dough hook attachment that, it just seemed too good to be true.
Seriously all you need make this incredibly easy bread recipe is:
flour
salt
yeast
water
a bowl
a wooden spoon
a dutch oven
And that is IT!
Mind you, the dough does have to sit for quite some time before baking it (12-24 hours, to be exact). I let mine sit for around 17. Just mix the ingredients the evening before and you're good to go by late morning or early afternoon the next day.
After 17 hours, I punched it down and let it rise for another hour. The dough is going to look wet and feel sticky but in the end, a perfect loaf of warm & delicious bread comes out of that oven.
My dutch oven is 6 quarts so the loaf is wider then it is tall. If you have a smaller one, I'd use that just so that your loaf of bread is a little more symmetrical. But it's whatever you prefer really. Still tastes the same in the end!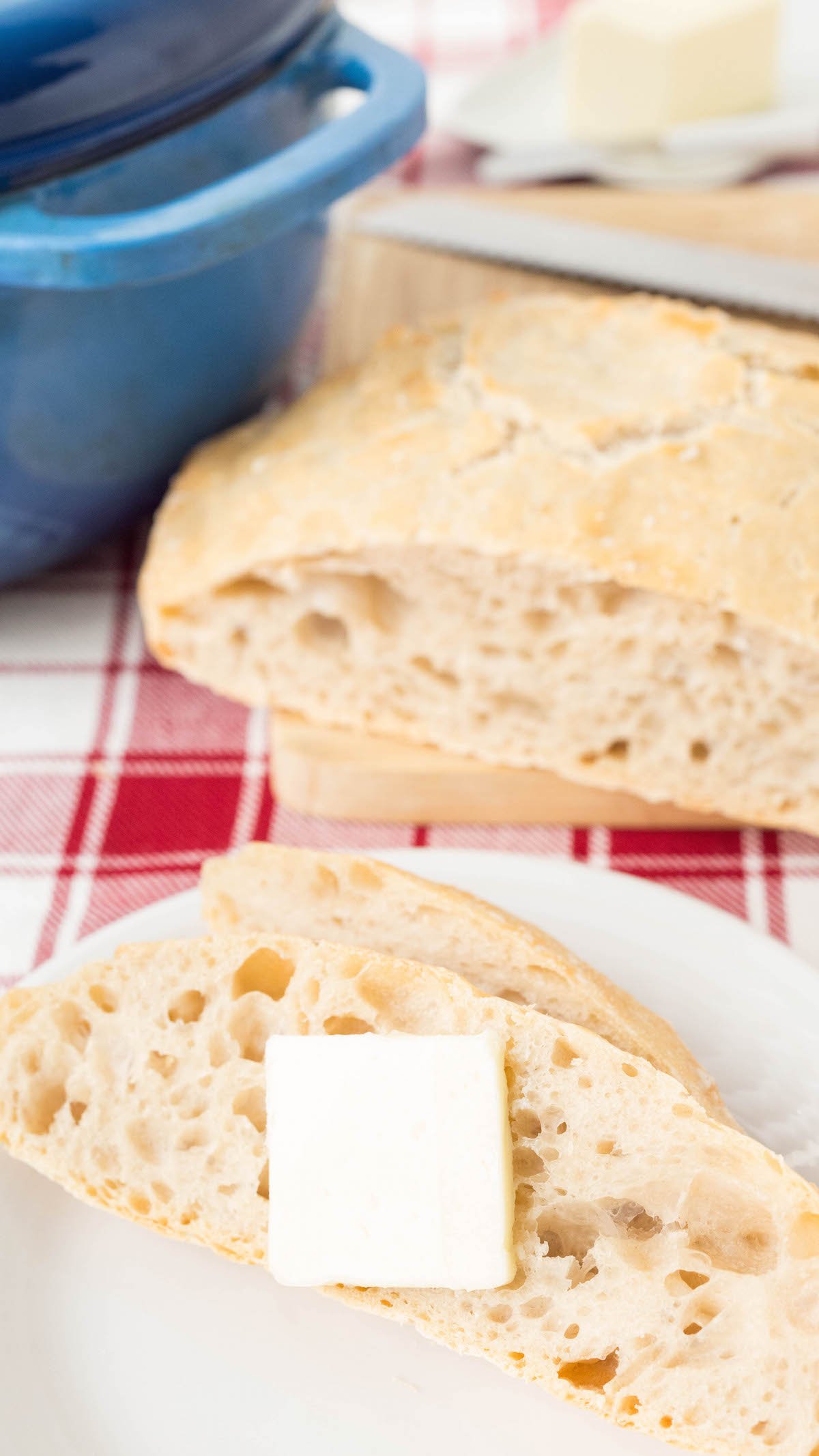 If I had known baking bread was this easy, I would have been making my own for a long time now instead of wasting money at the store. It is a shame I'm cutting down on carbs these days but hey, there's always cheat day!
Print
Quick & Easy Dutch Oven Bread Recipe
No-knead bread made quick and easy in a dutch oven. 
Author: Jessica Pinney
Prep Time: 12 hours
Cook Time: 1 hours
Total Time: 13 hours
Yield: 6 1x
Category: Bread
Cuisine: American
Ingredients
3–4 cups of flour (depending on humidity and temperature you may need more)
1 3/4 tsp salt
1/4 tsp active dry yeast
1 1/2 cups warm water
Instructions
The night before you want your bread to be baked, mix together the flour, salt, yeast, and water. Let sit for 12-24 hours. (It will be sticky but will double in size and will form air bubbles on the top).
Once air bubbles form, punch dough down and let rise for another hour.
While your dough is rising for the second time, pre-heat your oven to 450 degrees. 30 min before you plan on putting your dough in the oven, place your dutch oven in the heated oven.
Once your dough has risen, take out the dutch oven, put your ball of dough in the dutch oven, cover and place back in the oven for 25 min.
After 25 min, remove the lid of the dutch oven and bake the bread for another 5-15 min or until the top of your bread is browned.
Remove from oven, cool for a few minutes, cut into slices and slather on the butter!