Learn how to make homemade Peanut Butter Macarons for your dog with this easy to follow recipe. Be sure to watch the recipe video at the end! *The peanut butter for this post was provided by Peanut Butter & Co.
I just want to come clean and admit to something before we go on with this post: I am one of those people who loves their dog like a child.
You think it'll never be you then BAM, one day you're looking at the camera roll on your phone and it's just thousands of photos of your dog sleeping and posing in bad selfies with you.
I don't mind it though. These days I'm embracing it.
The last treats we made for Pearl turned out to be one of the all-time most popular posts on our blog. Guess we're not the only ones who love to spoil our dog!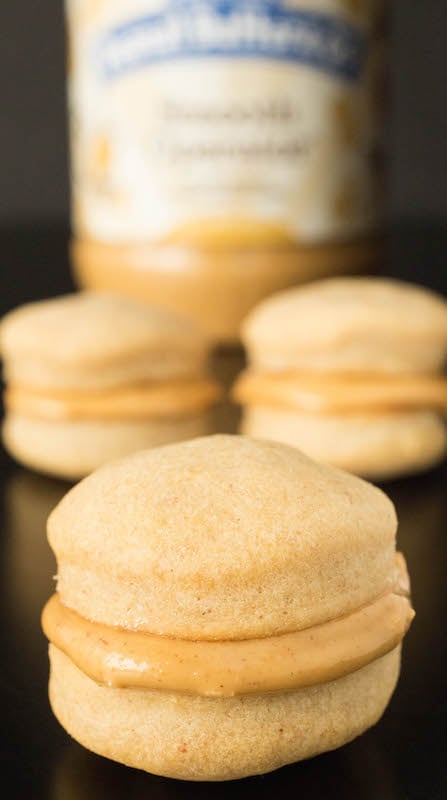 This time we decided to take dog treats to a whole 'nother level by making peanut butter macarons.
Peanut butter is one of Pearl's most favorite things on the planet, so how could she not love peanut butter sandwiched between two peanut butter cookies?!? Dog heaven!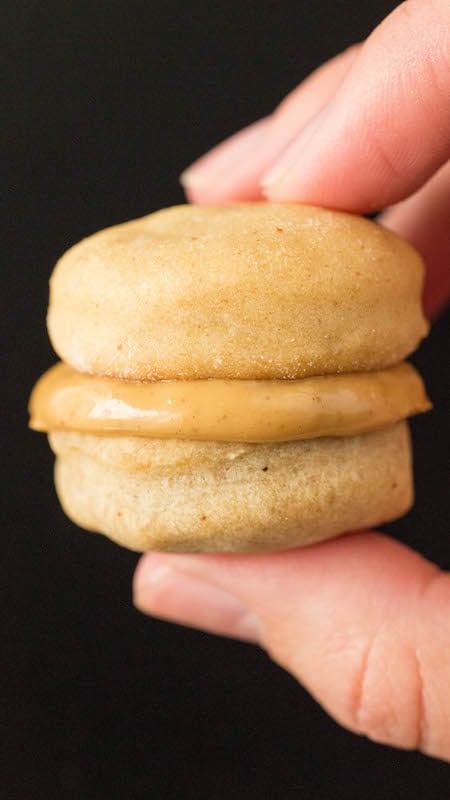 You may know by now that some brands of peanut butter are using xylitol as an ingredient. Xylitol is toxic to dogs, so please be sure the peanut butter you are using does not include it.
We like to use Peanut Butter & Co. Not only is it free of xylitol, but it is also made from all natural ingredients. Pearl seems to like it a whole lot too!
Whether you make these dog treat macarons for your pup on a special occasion, or just because we hope they enjoy!
Print
Peanut Butter Dog Treat Macarons Recipe
These dog treats look like little peanut butter filled macaron cookies.
Author: Adapted from The Novice Chef
Prep Time: 15 mins
Cook Time: 15 mins
Total Time: 30 mins
Yield: 30 1x
Category: Dog Treats
Cuisine: French
Ingredients
1 1/4 cup flour
1/2 teaspoon baking powder
1/2 cup creamy peanut butter
1 large egg
2 tablespoons honey
1/2 cup milk
additional peanut butter for sandwiching
Instructions
Preheat oven to 350°F.
In the bowl of your stand mixer (or another large bowl if mixing by hand), add flour, baking powder, peanut butter, egg, honey, and milk. Beat until ingredients are well combined and a soft dough forms.
Give the surface you are going to pat the dough out on a light dusting of flour. Pat the dough out into a rectangle 1/2″ deep.
Use a small cookie cutter (I used this one) to cut out circles of dough.
Place them on a parchment-lined baking sheet and bake for 10-15 minutes.
Transfer to a wire rack and allow to cool.
When ready to give to your dog, put some peanut butter in between two cookies.
To store, place cookies in an airtight container or Ziploc bag and keep in fridge.