Shishito Peppers are originally from Asia. They have thin skin and a smokey/sweet flavor.
In Spain, it is not uncommon for these to be served as tapas or even street food. In Japan, they are a favorite at establishments called "izakaya", places where people gather to drink and snack. In the US, they are mostly seen at farmer's markets or served at farm-to-table restaurants.
I got the peppers for this recipe in my last Farm Fresh To You delivery. I have also heard that Trader Joe's started carrying them this year.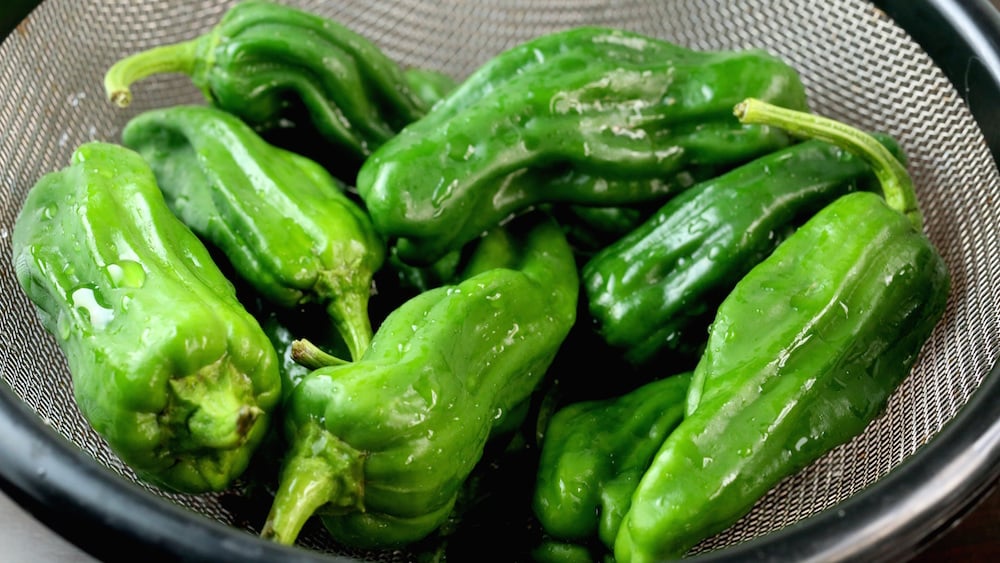 I cooked one pint for Janette and I as an appetizer and we devoured them in 2 minutes flat. They're so simple, yet bursting with flavor and the whipped lemon goat cheese just takes it to the next level.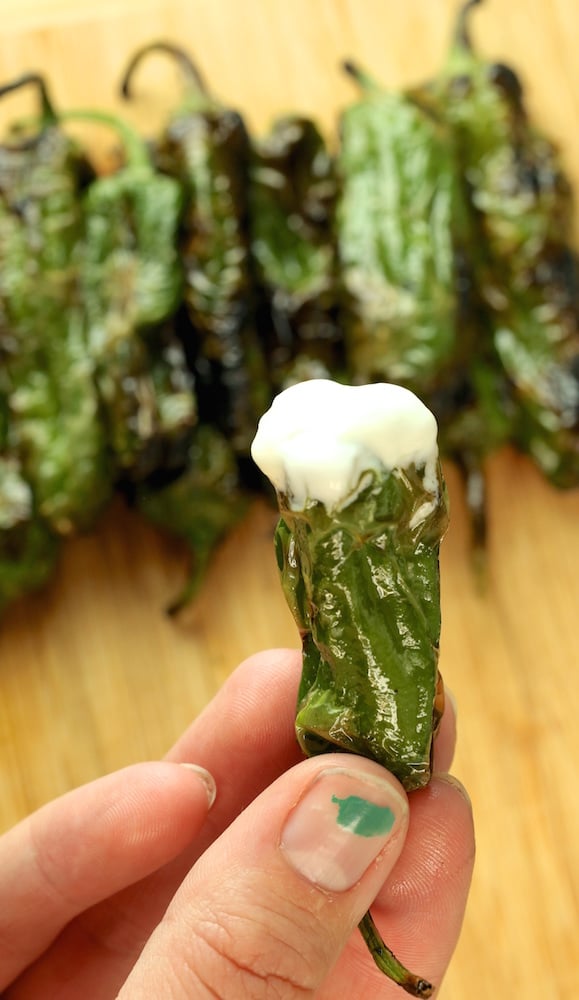 This post contains affiliate links (when you buy we make a little money at no cost to you). See our disclosure for more information.
Print
Blistered Shishito Peppers with Whipped Lemon Goat Cheese Recipe
Perfectly blistered shishito peppers served with a side of creamy whipped lemon goat cheese for dipping.
Author: Jessica Pinney
Prep Time: 10 minutes
Cook Time: 6 minutes
Total Time: 16 minutes
Category: Appetizer
Cuisine: Japanese
Ingredients
1 pint shishito peppers
1 tablespoon oil (I used Sesame)
1/2 teaspoon kosher salt
4 ounces goat cheese
2 1/2 tablespoons milk
1 tablespoon lemon juice
grated zest from 1 lemon
Instructions
Directions
Preheat your grill on high-heat. You need it pretty hot to blister these little guys.
In a large bowl, combine the oil and salt. Add the shishito peppers and toss. Set aside.
In a food processor, combine goat cheese, milk, lemon juice, and lemon zest. Mix until well combined and cheese has a "whipped" texture. (1-2 minutes.) Put in a bowl for serving.
Place your coated peppers on the grill. Cook for about 3 minutes then flip. Cook another 3 minutes or until peppers are softened and blistered. Remove from grill.
Serve peppers warm, alongside the whipped goat cheese. Enjoy!
Recipe adapted from: In Sock Monkey Slippers