Looking for the perfect, simple summer happy hour snack? Try these blistered shishito peppers! You can whip them up in less than 10 minutes with minimal ingredients.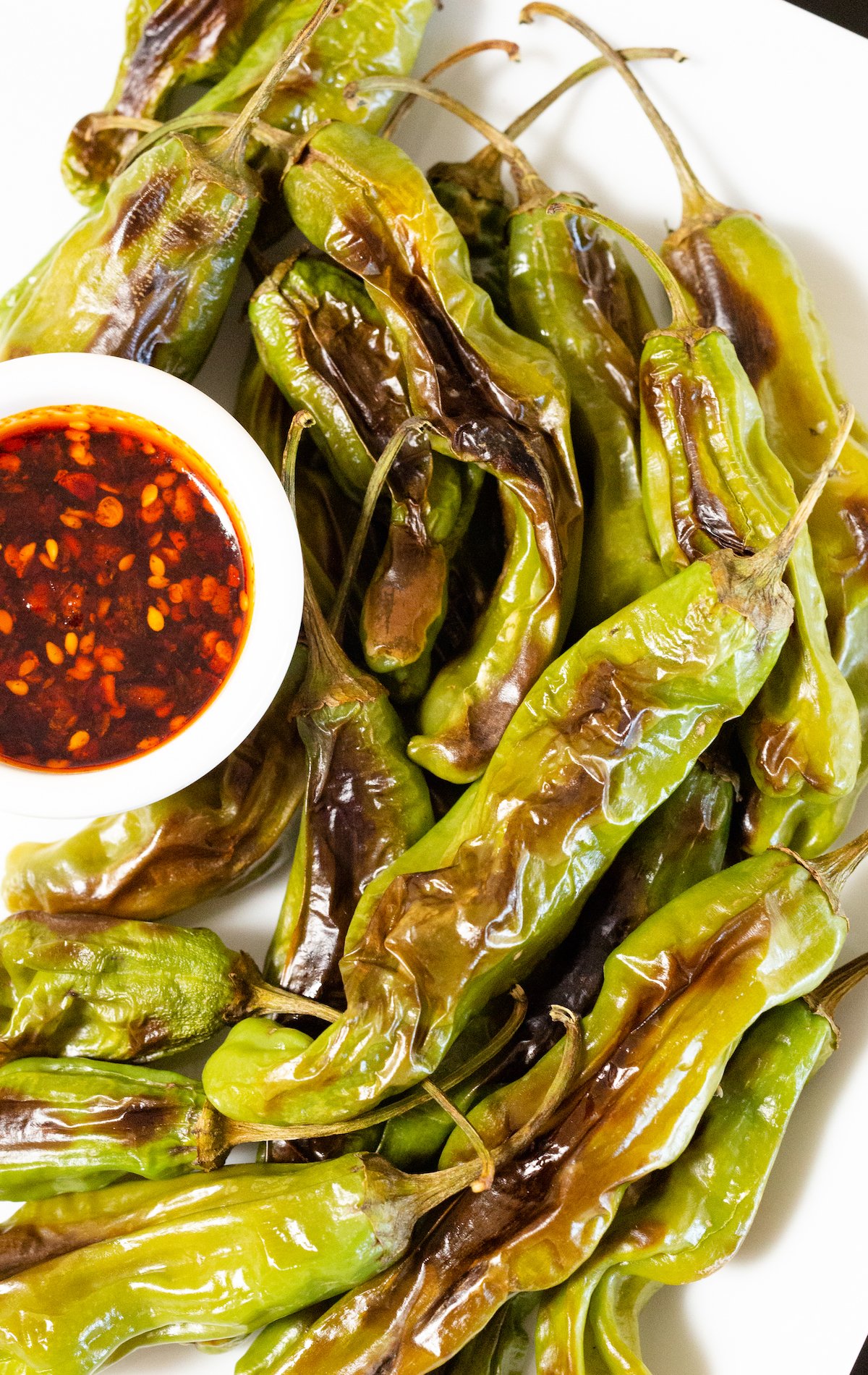 Have you had shishito peppers? They're in season during the summer and are a mostly mild pepper, but about 1 in 10 is a bit spicy. This makes eating them a little like playing a game of spicy roulette.
We love them because they make a really delicious simple appetizer or snack. We like to serve them as a first course with grilled meats, or snack on them instead of popcorn during summer movie nights.
All you have to do is blister them, then dip them in a sauce, or toss in oil, salt, and citrus zest.
You can blister them with virtually any cooking appliance: the stove top, under the broiler, on the grill, or even in the air fryer!
Ingredients
Shishito Peppers – All you need to make this recipe is fresh shishito peppers. During summer, you can find them at most grocery stores and at farmer's markets.
See further down in the post for recommendations on dipping sauces and ingredients to toss the peppers with after blistering.
How To Blister
Broiler
Place shishito peppers in a cast-iron skillet. Turn your oven's broiler on the highest setting and allow to preheat for 5 minutes.
Place the skillet with shishitos under the broiler and cook for about 4 minutes until one side of the peppers are broiled. Flip the peppers and cook the other side another 4 minutes until blistered.
Stovetop
Preheat cast-iron over high heat.
Add peppers to the skillet and cook 3-4 minutes on each side until skin is blistered.
Grill
Preheat grill over high heat.
Place shishito peppers directly on the grill grates. Grill each side of the pepper 3-4 minutes until the skin is blistered.
Air Fryer
Preheat the air fryer to 400F.
Place shishito peppers in the air fryer basket and cook for approximately 4 minutes on each side until the skin is blistered.
What Sauce To Serve With?
Our favorite way to eat these peppers is with a dipping sauce. There are so many good options to choose from. Our favorite is a combination of soy sauce, sesame oil, and chili crunch sauce with a squeeze of lime. Below are a few other options that we love.
Soy Sauce
Aioli (herb, garlic, or lemon)
Whipped Goat Cheese with lemon juice & zest or chili oil
Peanut Sauce
What to Toss With?
Instead of a dipping sauce, you can toss your peppers with oil, citrus zest, and spices after blistering. Our favorite is simple: just a little sesame oil and flaky sea salt. Below are a few other ideas to try.
Sesame Oil
Sesame Seeds
Citrus Zest
Citrus Juice
Red Pepper Flakes
What Else Can You Use Them In?
Poke bowls
Salads
Stir Frys
Pizzas
Quesadillas
Soups or Chilis
This post contains affiliate links (when you buy we make a little money at no cost to you). See our disclosure for more information.
Print
Blistered Shishito Peppers
Fresh shishito peppers blistered and served with a simple dipping sauce.
Author: Jessica Pinney
Prep Time: 4 minutes
Cook Time: 6 minutes
Total Time: 10 minutes
Yield: 4 1x
Category: Appetizer
Cuisine: Japanese
Ingredients
Peppers
12 ounces Shishito peppers
Sauce (optional)
2 Tbsp Soy Sauce
1 Tbsp Sesame Oil
1/2 Tbsp Chili Oil
1/2 Tbsp Lime Juice
Instructions
Shishito Peppers
Preheat broiler at the highest setting for 5 minutes.
Place shishito peppers in a cast iron skillet. Place under the broiler for 3-4 minutes until skin is blistered, flip each pepper with tongs and cook another 3-4 minutes until the other side is blistered.
Remove peppers from skillet and serve with dipping sauce or toss with desired toppings (sesame oil, sea salt, etc).
Sauce
Mix ingredients together in a small bowl. Refrigerate until ready to consume.