This recipe uses pulled pork, bbq sauce, smoked pineapple, jalapeños, and onions to make one of the most flavorful pizzas ever! Homemade or store-bought pizza dough can be used.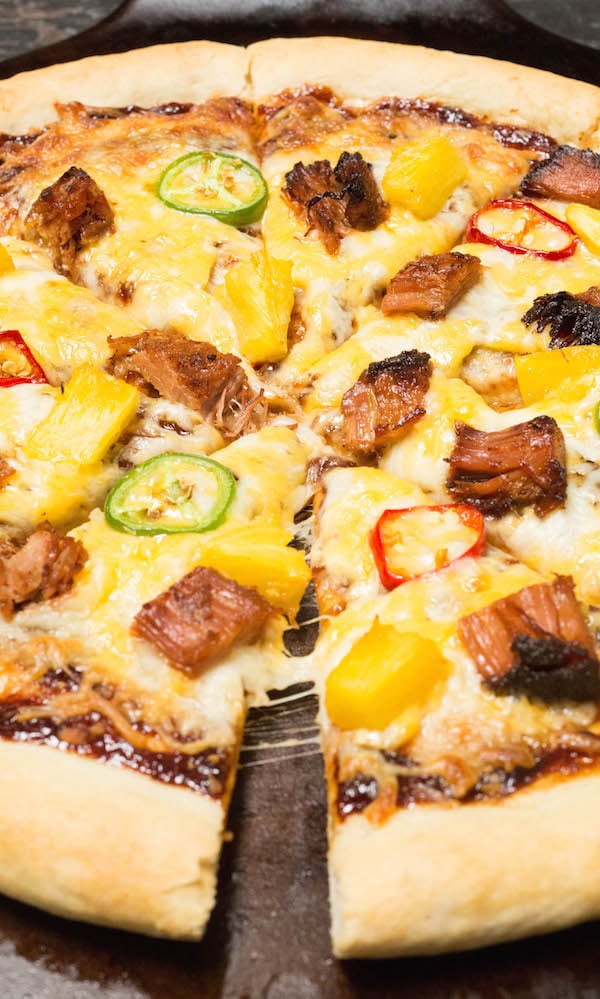 BBQ pizza is usually served with chicken as a topping, but once you have it with pulled pork you'll never go back!
If you think pineapple doesn't belong on pizza, I whole-heartedly believe that this recipe can change your mind. You can use any kind of pineapple you'd like, but I'd recommend fresh, or even better – smoked pineapple!
The sweetness of the caramelized smoked pineapple pairs perfectly with the tangy BBQ sauce and the little bit of heat from the jalapeños brings it all together.
Ingredients
Pizza Dough – I highly recommend using fresh dough for pizza. I like to use my NYC pizza dough recipe. If you don't want to make it yourself, many grocery stores sell fresh balls of dough and your local pizza place might too.
BBQ Sauce – You can use whatever your favorite BBQ sauce is. I like Sweet Baby Ray's if going with a store-bought sauce.
Cheese – I go the classic route on most of my pizzas, generally using just mozzarella. However, for this BBQ pizza, I like to do about 75% mozzarella & 25% cheddar.
Pulled Pork – Pulled pork is the star here. I like using leftover smoked cherry coke pork or crockpot Kahlua pork.
Pineapple – I like smoked pineapple on this pizza, but if you don't have a smoker or don't want to go to the trouble of preparing it you can cut fresh pineapple into chunks or use canned.
Jalapeños – The jalapeños bring a little bit of heat that adds a lot of flavor to the pizza, however, you can leave them off if you're not a fan. Use both red and green jalapeños for added color.
Onion – I like to use white onions, though yellow can be good too. The secret is to slice them very thinly. This way they cook down in the oven, turning them into delicious little morsels reminiscent of caramelized onions.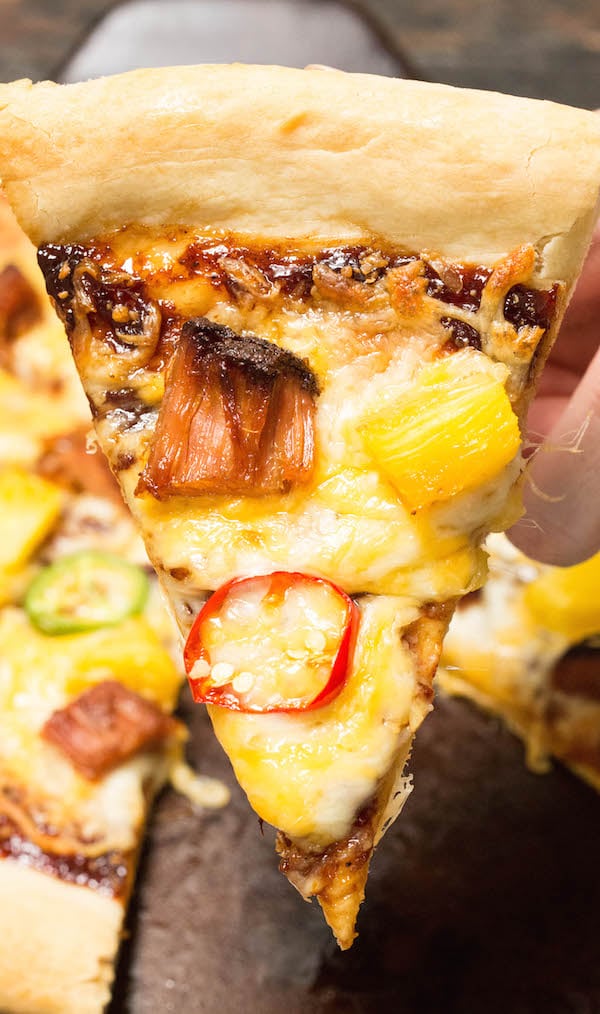 Print
Pulled Pork & Pineapple Pizza Recipe
Pulled pork, bbq sauce, smoked pineapple, jalapeños, and onions make this one of the most flavorful homemade pizzas ever!
Author: Jessica Pinney
Prep Time: 1 Hour
Cook Time: 10 Minutes
Total Time: 1 hour 10 minutes
Yield: 4 1x
Category: Pizza
Cuisine: American
Ingredients
1 Ball of Pizza Dough
1/2 Cup BBQ Sauce
3/4 Cup Shredded Mozzarella
1/4 Cup Shredded Cheddar
1/3 lb Pulled Pork
1/2 Cup Smoked Pineapple, cut into chunks
2 Jalapeños, sliced
1/4 Cup Onion, thinly sliced
Instructions
Prepare your pizza dough according to the instructions. Preheat your oven to 450F.
Stretch your pizza dough out on a pizza stone or pan.
Top with the BBQ sauce, cheeses, pulled pork, pineapple, jalapenos, and onion. Place in the middle rack of your oven and bake for 8-12 minutes, until crust is golden brown and the cheese is bubbly.