I was looking around for some 4th of July themed recipes and I came across this idea for a potato salad from Proud Italian Cook. I'm just going to go ahead and warn you though, this isn't your Momma's potato salad you're used to eating as a kid. There's no mayonnaise involved, which normally would have stopped me right there, but I was intrigued so I tried it out and you know, it was pretty good!
I didn't have exact measurements to follow when making this recipe so it was a little bit of a trial and error situation when it came to taste, but in the end I think I hit the mark. The herbs and lemon zest really brought out the flavor of the potatoes and created a light and fresh tasting side dish. I highly recommend!
This post contains affiliate links (when you buy we make a little money at no cost to you). See our disclosure for more information.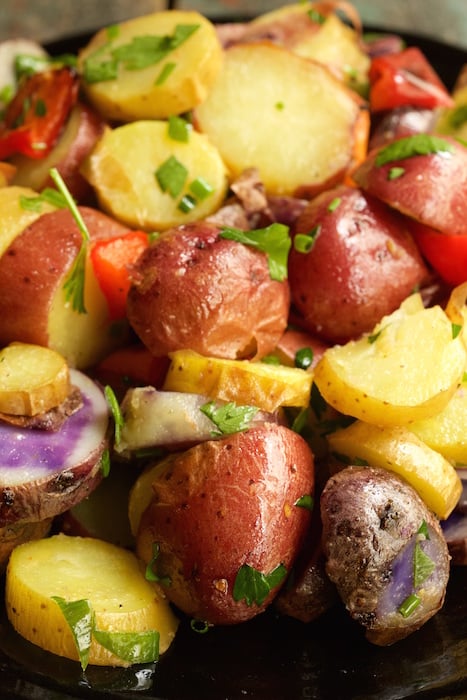 Print
4th Of July Potato Salad Recipe
Red, white, and blue potato salad for 4th of July. 
Author: Jessica Pinney
Prep Time: 10 minutes
Cook Time: 20 minutes
Total Time: 30 minutes
Category: Side Dish
Cuisine: American
Ingredients
Ingredients: (serves 4)
6 Fingerling potatoes
6 Ruby Gold potatoes
6 Baby Purple potatoes
1 Red Pepper
1 Red onion
2 tablespoons snipped chives
2 tablespoons sliced green onions
2 tablespoons fresh parsley
1 teaspoon lemon zest
Salt and Pepper to taste
Morton's Nature's Seasoning
, to taste
Dressing:
Juice of ½ a lemon
2 tablespoons olive oil
Instructions
Directions:
Preheat oven to 450 degrees.
Chop up the red pepper and red onion and place on a pan with the potatoes. Drizzle with olive oil.
Cook in oven for 15-20min or until potatoes are tender.
Allow potatoes to cool. Then cut into slices.
Put cooked potatoes, pepper, and onion into a bowl. Add chives, green onion, parsley, lemon zest, and seasonings. Mix together.
Drizzle on the lemon and olive oil dressing (again, add to taste) and toss all together.
Let chill for an hour or so that the potatoes really soak up the dressing and seasonings. Even leave in overnight if you have the time.
Serve.
***Again, all of these ingredients where added to taste. You may want to add a little more of this or use a little less of that.
***Also, I forgot to use the red onion when I made this, but it would add some good flavor. You don't have to cook it with the potatoes if you don't want to, you could definitely leave it raw.