These 3D Christmas veggie trays in the shape of a Christmas tree and snowman are a stunning, healthy appetizer for holiday parties.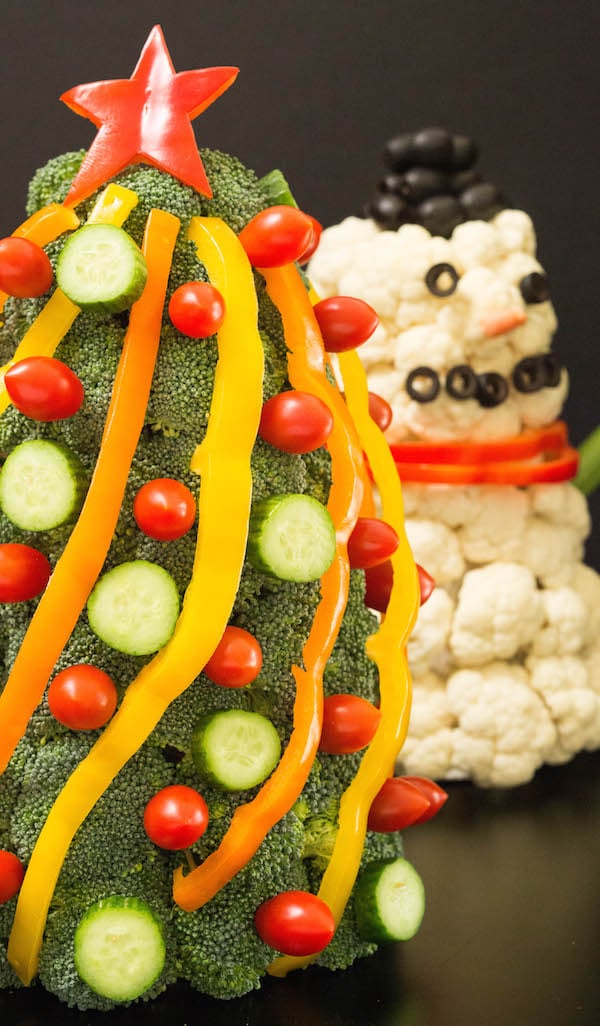 It may have been two months before Christmas and 82 degrees outside when I made these veggie masterpieces for the first time, but it didn't take long to get into the holiday spirit as I pieced them together. As the first few cauliflowers were placed on my snowman, I started humming a Christmas tune and didn't look back!
If you've been reading this site for a while, you know holiday veggie/cheese/meat trays are kinda my thing. I'm always trying to one-up myself each holiday and knew I had to really step up my game this year. That could only mean one thing….going 3D! This was my first attempt at putting together a 3D veggie tray and I have to say, it was easier than I anticipated.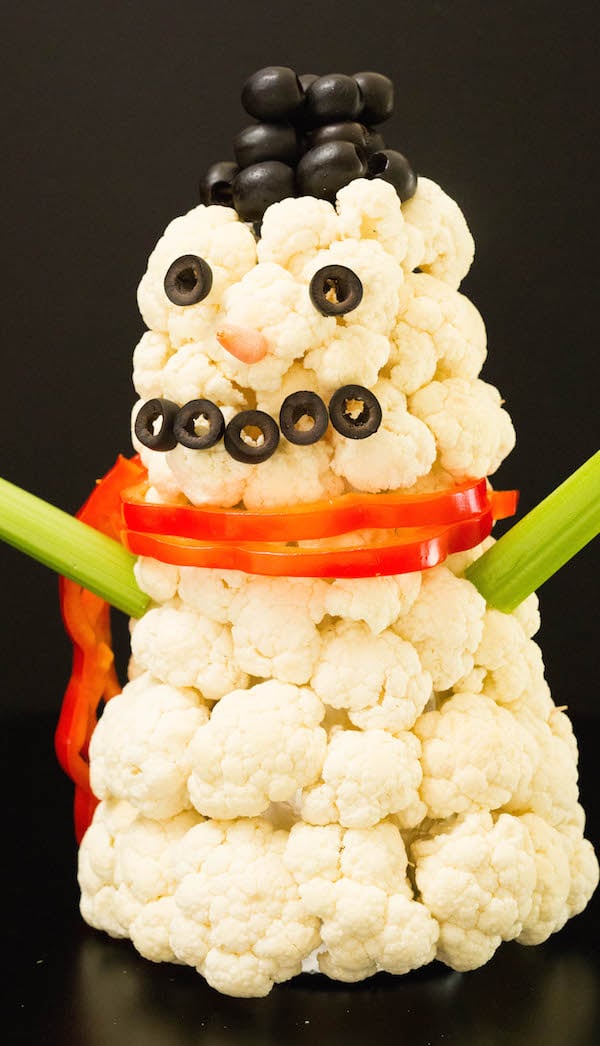 Fun fact about myself, in my younger years I became a big fan of putting together 3D puzzles and would usually get a new one as a Christmas gift. Putting together this veggie Christmas tree and snowman reminded me of how fun those 3D puzzles were, except with the veggies I could be a bit more creative and less restricted.
I used two 3.9in x 8.8in styrofoam cones from my local craft store as the base for these 3D veggie trays. Other than that, all you really need are a lot of toothpicks, a little tin foil, and all the veggies you're going to use.
The beauty of it all is you can pick whatever veggies you want to accent your snowman and Christmas tree.
Christmas Tree Ingredients
Broccoli
Bell Peppers (red, orange, and yellow)
Cherry Tomatoes
Persian Cucumbers
Snowman Ingredients
Cauliflower
Bell pepper (Red)
Black Olives (whole and halved)
Carrot
Celery
If you have children, I think they would have a great time helping put these together. Once you get in the rhythm of placing a veggie on a toothpick and attaching it to the styrofoam cone, building the snowman and Christmas tree happens pretty quickly. And just think of how many compliments you'll get at your holiday party. People will think you are so talented;-)!
Print
3D Veggie Christmas Tree and Snowman
Impress your friends at the next holiday party with this very crafty 3D veggie Christmas Tree and Snowman!
Author: Janette Staub
Prep Time: 1 hour
Total Time: 1 hour
Yield: 12 servings 1x
Category: Appetizer
Cuisine: American
Ingredients
2 3.9in x 8.8in styrofoam cones
Round toothpicks
Tin Foil
Christmas Tree:
Broccoli (I used about 6-7 broccoli crowns)
1 Red Bell Pepper
2 Yellow Bell Peppers
2 Orange Bell Peppers
1 package of cherry tomatoes
2 Persian cucumbers
Snowman:
2 Heads of Cauliflower
1 Red Bell Pepper
1 stalk of celery cut into 2 even pieces
One end of a baby carrot
20 whole olives
7 halved olives
Instructions
Wrap both styrofoam cones in tin foil.
Break broccoli crowns and cauliflower into florets of different sizes.
Christmas tree:
Insert a toothpick into a broccoli floret and stick the other end of the toothpick into the bottom of the cone until secure.  Work your way around in a circle, building upwards until the whole cone is covered.  I used bigger broccoli pieces at the bottom and smaller as I got to the top.
Cut the top and bottoms off the orange and yellow peppers and slice the rest of the peppers horizontally.  Make one cut in each slice to make one long 'ribbon'.  Alternate each color around the whole tree attaching with a toothpick at each end.
Between each ribbon attach cherry tomatoes and Persian cucumber slices to your desire.
Cut out the shape of a star in one side of the red pepper.  Attach to the top of the tree with a toothpick.
Snowman:
Insert a toothpick into a cauliflower floret and push the other end of the toothpick into the bottom of the cone until secure.  Work your way around in a circle, building upwards until the whole cone is covered.  I tried manipulating the space between the cone and some of the cauliflower towards the middle to help distinguish the snowman's 'body' and 'head'.
Slice the red pepper horizontally and then make one cut in those slices to be able to attach around the 'neck' with toothpicks as well as along the one side of the snowman to make its 'scarf'.
Attach one celery piece to each side to make its 'arms'.
Using four horizontal toothpicks and four vertical toothpicks attach 20 whole olives to make the 'hat' and place on top of its 'head'.
Place one end of a baby carrot in the middle of its 'face' for the 'nose'.
With the 7 halved olives, create the 'eyes' and 'mouth'.
Put out the veggie dip and Enjoy!