Most people go to Coachella to party and hear great bands or to take selfies and show off their amazing outfits. I, however, go to Coachella for the food.
While the Coachella of yesteryear may have been mainly focused on the music, these days the food and art get just as much attention. This year, I was anxiously awaiting the vendor lineup dropping even more so than the music lineup.
To help other foodies traveling to the festival, I wanted to share some tips and tricks on how to have the best Coachella foodie experience possible. Below, I'll answer some of the most commonly asked questions about the Coachella food and share a few tips as well as my personal favorite vendors with you.
Coachella Food
Coachella now has TONS of food and drink vendors. You can find classic Coachella foods like Spicy Pie…
As well as newer vendors that are delicious and 'grammable, like After's Ice Cream…
This year, After's even debuted a flavor called "Light Show" that they made especially for Coachella. It was the perfect way to get a little relief from the heat!
Coachella food vendors change from year to year, but several are "usuals" and come back.
There are several categories of food that are popular at Coachella. You'll have many options to choose from in each category. Here are some food vendor examples from this past year (2019).
Coachella Food Vendors
Coachella Pizza
Spicy Pie
800 Degrees
Pizzanista
Nana Lu (pizza bagels)
Pizza By Round 2
The Rose Venice (VIP)
Coachella Ice Cream
After's Ice Cream
Salt & Straw
Van Leeuwen
Good Time's Ice Cream
Ridges (churro ice cream sundaes)
Coachella Tacos
Trejo's Tacos
Kogi Taco's
Madre (VIP)
Seabirds
Tacos 1986 (VIP)
Tacos Lobos
Coachella Burgers
Top Round
Shake Shack
Love Hour (VIP)
Hawkin's House of Burgers
Healthy Coachella Food
Sweetfin Poke
Wolf (VIP)
Pressed Juicery
Backyard Bowls (VIP)
Me'ze (VIP)
Vegatinos
Other Must-Have Coachella Food
Beer Belly (wings & deep-fried Oreos)
PB&J
Konbi
Fuku
Wingman Kitchen
Coachella VIP Food
People often ask, "Are Coachella VIP passes worth it?" If you're truly a foodie, I would say absolutely!
One of the biggest perks of having a VIP pass at Coachella is access to better food, including actual sitdown restaurants.
For the past few years, Gwen (Luke & Curtis Stone's LA restaurant), has set-up an adorable little pop-up in the main VIP area. There's a bar where you can grab something from the "bites" portion of the menu.
You can also make reservations to have a sit-down dinner and that's how we chose to kick off our first evening at Coachella. This particular day was the hottest of the weekend, around 100°F. It was so nice to be able to take some time to sit down in the shade!
Gwen knows that you have likely been out in the sun all day and are dirty, sweaty and in desperate need of some relief. They provided us with cold, wet towels and a herbal spray to refresh ourselves. It was a lovely way to start dinner!
Being able to sit down and eat a real meal before soldiering on through the night was key to our survival!
Our favorites from the pre-fixe menu include the Signature Parfait (below). The pâté was incredibly rich and creamy.
As far as the entrées went, the grilled shrimp skewers blew us away. They were perfectly cooked and seasoned!
All the dessert options were appropriately on the lighter side. The other two people in my group ordered the chocolate mousse, while I chose the berry tart.
Both were excellent and satisfied our sweet tooth without leaving us too weighed down to run over to the next concert.
The Rose Garden VIP section offers another sit-down restaurant, a hand roll bar.
You can't make reservations here, instead, you just stand in line until seats open up. We only had to wait about 15 minutes, but during peak hours the line looked like it was over an hour long.
We thought that the hand roll bar was one of the best value foods at Coachella. For $25 we got 5 hand rolls that left us feeling full and satisfied.
Out Standing in the Field, our last sit down meal at Coachella, was by far the most bougie.
If you're not familiar with Out Standing in the Field, they put on these family-style dinners in unique locations. One of my favorites they do here in California at a "Secret Beach Cove". The table is set close to the shoreline and as the tide comes in guests feet will feel the water rushing over them. Incredible!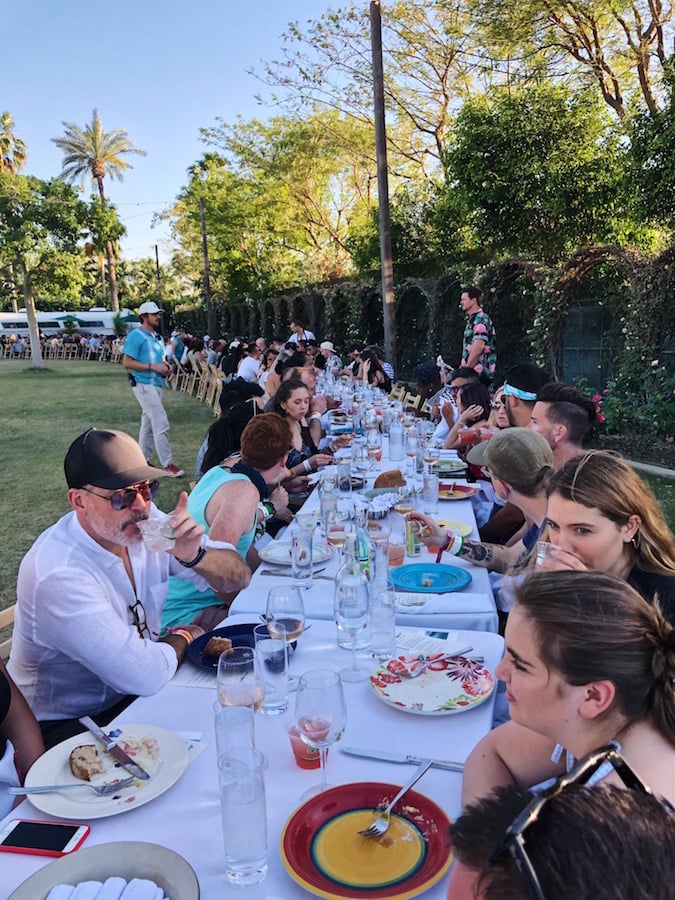 At Coachella, they set up their tables inside the VIP Rose Garden. Unlike the Gwen pop-up, you do not have to be VIP to book dinner here. If you are GA, your dinner booking will come with the added bonus of being able to enter the Rose Garden area all day long on the day of your dinner.
Each night of Coachella, a different well-known Chef (usually from LA) prepares the dinner. We chose Sunday night which was prepared by Chef Jason Neroni of The Rose Venice. The meal included 3 sit-down courses and a dessert that was handed to you on your way out. Wine pairings and cocktails are included for the $250. If you're a heavy drinker this could get really exciting for you, as they literally never stop pouring.
The couples seated on both sides of us were very friendly and we thought it was a fun way to meet some new people at Coachella.
Near the end of the dinner, two of the farmer's who grew all the veggies came around (wine glasses in hand, of course) to talk to us about their farm. It was a really cool experience!
The VIP section at Coachella offers many other gourmet food options than just sit down restaurants. This past year, LA hotspots like Wolf, Madre, Playa Provisions and Freedman's were only available in the VIP sections.
You can also find many of the same vendors who are in GA, except with much shorter lines since the VIP section is less crowded.
Coachella Drinks
Coachella offers drink options of all varieties: beers, cocktails, and caffeinated.
We were parched from the long walk into the festival on Friday afternoon and were so stoked to see GT's Kombucha booth immediately upon entering.
They made this delicious "Black Magic" flavor of Kombucha just for Coachella. We're big GT's fans, so I was excited to try a new flavor. We liked it so much that we ended up ordering it a handful of other times over the weekend.
GT's also offers a gigantic Kombucha Bar in GA with over 20 flavors of Kombucha. There's even a "Kombucha Sommelier" on site to help you choose!
If you're old like us (read: early 30's), you will be needing caffeine at Coachella. There are coffee options in both the GA and VIP, though the line in GA was significantly longer all weekend. Peet's was also there serving up nitro cold brew in their tap room.
I can be a little sensitive to caffeine and definitely didn't want to have a panic attack at a concert with 100,000 people, so I was really pleased that there were several Matcha Bar stands throughout the festival grounds.
I started every day with a refreshing Matcha Lemonade (pictured above on the left) and Janette chose a Matcha Latte with almond milk (right).
Milk Box Tea was also there serving up delicious boba tea drinks.
Most people attending Coachella are looking to have a good time and let loose in one way or another. Often this means knocking back a few beers or cocktails. There are plenty of both at Coachella, but unlike other music festivals, you can only drink in designated sections.
Bars throughout the festival grounds offered Heineken on tap. If you're looking for something more exotic, the "Craft Beer Barn" is where it's at. There are many IPA's, sours, barrel-aged beers, ciders, and even hard kombuchas available there.
The VIP had a wonderful Gin & Tonic bar that our friend, Lindsey, basically took up residence at. She ordered both cocktails pictured above and below (plus so, so many more not pictured) and could not stop raving about them.
Other bars across the grounds were serving up tropical Moscow mules, margaritas, and Red Bull drinks.

Not a fan of beer or cocktails? There was a "Rose All Day" vendor in the VIP. Cupcake Vineyards also had multiple stands on site serving up wine slushies and popsicles served in cups of wine.
We chose this Watermelon Lemonade Popsicle in Sparkling Rose. Yasss, queen!
Coachella Food Prices
Because it's a festival, you can expect to pay premium prices for the food at Coachella. Pizza slices were around $9. Pizzanista was selling whole pies, which is great when the entire squad is hungry, but be prepared to spend some dough – the 18″ pepperoni pizza will set you back $65.
I paid $14 for my double scoop cone from After's Ice Cream and $7 for a single fruity pebbles churro at Ridges.
Most cocktails were $14-$16 and beers averaged $10-$15.
Coachella Food to Bring
You can't bring food into the festival, but if you're staying at a hotel or AirBnB it's a really good idea to bring food along with you for breakfast and late night snacks.
We knew we wouldn't be getting to the festival until the afternoon each day, so we mostly stocked up on breakfast essentials. We had bagels, bacon, and eggs on deck. Saturday morning I planned to make a fruit & yogurt board. I knew we'd be exhausted from the night before and need a hydrating breakfast full of Vitamin C.
I was able to quickly throw this together in the morning and we all sat by the pool eating it like zombies. Of course, we also had to bring some rosé. Since Virgil Abloh's DJ set was that day, we obviously had to bust out a bottle of his Moet & Chandon collab.
Other food we chose to bring with us included quesadilla ingredients (for those late-night cravings), chips, and trail mix. We also found it helpful to stock up with some mineral water (hydration is key), Gatorade, beer, and more champagne.
FAQs About Coachella Food
Is Coachella food free?
No, Coachella food is not free or included with your ticket. Which brings us to our next question…
How much is Coachella food?
Every vendor will have different prices, but you should know that Coachella food is rather expensive. This year (2019), an 18″ Pizza from Pizzanista was $65 (or $9 a slice) and a double scoop of After's Ice Cream was $14.
Can you bring food inside Coachella?
No, you are not allowed to bring food or drinks inside Coachella. If you are camping you can bring food and drinks (with some restrictions) into the camping area.
Can you bring water into Coachella?
No, you can not bring water into Coachella. You can, however, bring in an empty water bottle (non-metal) or Camelbak and fill them up at a water refilling station for free. Bottles are also available and have been the same price since 1999 – $2.