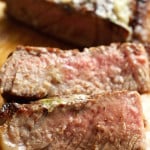 Ingredients
Steak Ingredients:
1 Tablespoon Butter (or Vegetable Oil)
1 1.5-2lb Ribeye or NY Strip
1/4 teaspoon dried parsley

3/4 teaspoon black pepper
1/2 teaspoon garlic powder
1–2 teaspoons Coarse Salt
Blue Cheese Steak Butter:
2 tablespoons crumbled blue cheese
1 Scallion (sliced very thin)
4 Tablespoons Butter (room temperature)
Instructions
Take your steak out from the fridge about 30 minutes before you want to cook it. Preheat oven to 400 degrees.
Combine the parsley, garlic powder, and black pepper in a small bowl. This mixture is enough for 3-4 steaks, so apply accordingly to the amount of meat you are making.
Pat your steak dry with a paper towel (very important!!). Sprinkle one side of your steak with the parsley/garlic/pepper mixture. Then apply a liberal coating of coarse salt
. The salt is what is going to give our steak that delicious crust, so make sure the entire piece is covered.
Heat your oil or butter in a cast iron skillet
 over medium-high heat for a few minutes. Once it is thoroughly heated, place the seasoned side of the steak face down in the pan. It is important not to move the steak after you place it, so it can form the crust. Quickly season the other side of the stake. Cook 5-7 minutes per side. Use a tong to brown all edges.
After cooking each side, transfer the skillet to your preheated oven. Cook for about 6-12 minutes, until the desired doneness. Test with a meat thermometer to see how done it is. Medium-rare (135°) is the ideal temperature to bring out the flavor of the meat. If you like yours a little less pink, you could cook until it is Medium (145°). Of course, you could cook in even longer to medium-well or well, but why would you want to ruin a great piece of meat??
While the steak is finishing in the oven, you should be making the steak butter. Mix together the butter, crumbled blue cheese, and scallions. Add salt to taste.
When steak is at the desired temperature, move to a plate. Cover steak with 1 tablespoon of the blue cheese butter, then cover with aluminum foil for 10 minutes (temperature will rise 5-10°, so keep that in mind). This is important because it allows the meat to "rest" and soak in all of its own juices. When finished, slice against the grain and serve! Feel free to use the remaining steak butter.