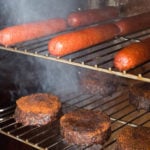 Ingredients
Hamburger Patties
Hot Dogs
2–3 Garlic Cloves (optional)
1/2 Onion, sliced (optional)
Hamburger Seasoning(optional):
3 Tbsp Paprika
1 Tbsp Cumin
1 Tbsp Salt
1/2 Tbsp Onion Powder
1/2 Tbsp Garlic Powder
1/2 Tbsp Black Pepper
Instructions
Add wood chips (we prefer apple and/or cherrywood) to your smoker. Fill the water pan and add a few cloves of garlic and onion slices, if you prefer. Place in smoker then being heating it to 225 F.
Add all seasonings to a bowl and combine well.
Sprinkle liberally on both sides of the hamburger patties
Place seasoned hamburger patties and hot dogs directly on smoker racks.
Once the smoker is preheated and you have maintained the temperature for at least 15-20 minutes, insert the racks of hamburgers and hot dogs.
Cook about 1 hour, until hot dogs are cooked through and hamburger patties are at your desired temperature.