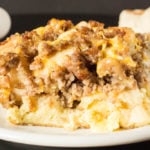 Ingredients
8

English Muffins, cut into

six

ths

8 oz

Breakfast Sausage, cooked and crumbled

1 1/2 Cup

Cheddar Cheese, Shredded

5

Eggs

1 1/4 Cup

Milk

1.5 Tsp

Salt

1/2 Tsp

Pepper
Instructions
Preheat oven to 325 degrees F.
Grease an 8×8 baking dish with non-stick spray. Place half of your cut English muffins into the bottom of the dish in a single layer.
Cover then English muffins with half of the cooked breakfast sausage, then layer with half of the cheese.
Add one more layer of English muffins, another of sausage, then the cheese.
In a bowl, whisk together the eggs, milk, salt, and pepper. Pour evenly over the casserole.
Bake 40-50 minutes until center is cooked through.
Let cool 5 minutes, then cut and serve.