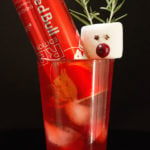 Ingredients
Garnish Ingredients
1 Jumbo Marshmallow
2 Stems of Rosemary
2 Cloves
1 Cranberry
Cocktail Ingredients
Ice
2 oz Vodka
1 oz Orangecello
1/2 oz Allspice Liqueur
1 Can Cranberry Red Bull
Instructions
Garnish Instructions
Take the jumbo marshmallow and stick the two rosemary stems in the top to resemble antlers.
To make his eyes, push the two cloves gently into the middle of the front of the marshmallow.
Cut a toothpick in half and stick one half into the cranberry, then push the other half into the marshmallow under the eyes to make his red nose. Set aside.
Cocktail Instructions
Wash and dry the Red Bull can. Set aside.
Add ice to a tall pint glass until it is about half full. Add the vodka, Orangecello, and allspice liqueur.
Crack open the Red Bull can, then quickly flip over and place it in the glass.
Add the marshmallow Rudolph garnish to the side of the glass and enjoy immediately.