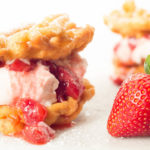 Ingredients
Roasted Strawberry Buttermilk Ice Cream Ingredients
1 Pint

Strawberries, hulled & sliced

1/3 Cup

Sugar

3 Tablespoons

Fresh Lemon Juice

2 Cups

Whole Milk

2 Tablespoons

+

2 teaspoons

Cornstarch

4 Tablespoons

Cream Cheese, softened

1/8 tsp

Salt

1 2/3 Cups

Heavy Cream

3/4 Cup

Sugar

2 Tablespoons

+

2 teaspoons

Light Corn Syrup

1/3 Cup

Buttermilk
Strawberry Syrup Ingredients
3 Cups

Strawberries, diced

1 Cup

Sugar

2 Tablespoons

Lemon Juice

1/4 tsp

Vanilla Extract
Funnel Cake Ingredients
3

Eggs

1/4 cup

Sugar

2 Cups

Milk

3 1/2 Cups

All-Purpose Flour

1/2 tsp

Salt

2 tsp

Baking Powder
Oil for frying (I use Canola)
Powdered Sugar, for topping
Instructions
Roasted Strawberry Buttermilk Ice Cream
Preheat the oven to 375 degrees. Combine the strawberries and sugar in a glass baking dish. Roast for 8 minutes, or until just soft. Let cool slightly.
Puree the strawberries in a food processor with the lemon juice. Measure out 2/3 cup of the berry puree and set aside. Store the rest in an airtight container in the refrigerator. Save for another use.
In a small bowl, mix 2 tablespoons of the whole milk with the cornstarch. Once combined, mix in the cream cheese and salt. Whisk until smooth.
Combine the remaining milk, cream, sugar, and corn syrup in a medium saucepan. Bring to a boil over medium-high heat and continue boiling for 4 minutes. Remove from heat and gradually mix in the cornstarch slurry mixture. Bring the mixture to a boil over medium-high heat and cook, stirring with a heatproof spatula, until slightly thickened, about 1 minute. Remove from heat.
Gradually whisk the hot milk mixture into the cream cheese until smooth. Add the reserved 2/3 cup strawberry puree and the buttermilk. Blend well. Pour mixture in a glass or stainless steel bowl and place in the refrigerator until it has reached room temperature or cooler.
Pour ice cream into ice cream maker and spin according to manufacturer's instructions, until smooth and creamy. Transfer to your storage container (a bread pan works great in a pinch) and seal with an airtight lid. Freeze until firm, at least 4 hours.
Strawberry Syrup
Combine all ingredients in a saucepan. Bring to a boil. Lower heat to a gentle simmer. Cook, stirring occasionally, until the liquid as reduced by 1/3-1/2. 15-20 minutes.
Remove from heat and allow to cool. Syrup will thicken. Store refrigerated in an airtight container.
Funnel Cake Ice Cream Sandwich
Add the eggs and sugar to a large bowl. Beat until incorporated.
Add the milk and whisk. Once combined add the flour salt and baking soda. Whisk until smooth and creamy.
In a cast iron skillet or large pot, add your oil until it covers 1-2 inches. Heat until the oil reaches 350 degrees. To test oil, drop a little batter in. If it cooks quickly, it is ready.
Plug the bottom of a funnel with your finger. Fill with your batter. When over the oil, remove your finger and move around quickly making a design that is about 3-4 inches in diameter. When funnel cake is brown on both sides, remove from pan and place on a paper towel-lined plate. Repeat until you have used all your batter.
To Assemble
Scoop some ice cream on top of one of your funnel cakes. Spoon a little bit of the strawberry syrup on top of the ice cream. Place another funnel cake on top and very gently press down. Sift powdered sugar over the top. Stuff in your face.