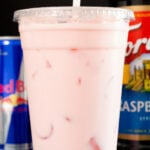 Ingredients
1 Can Red Bull
2 Tablespoons Flavored Syrup (adjust to your taste)
1/4 Cup Half & Half
Ice
Instructions
Fill your cup to the top with ice (I use a 24 oz cup).
Add the amount of flavored syrup you'd like (I like about 2 tablespoons.)
Pour the can of Red Bull over the top.
Add cream.
Place lid on your drink and carefully swirl to combine.
Drink and enjoy!