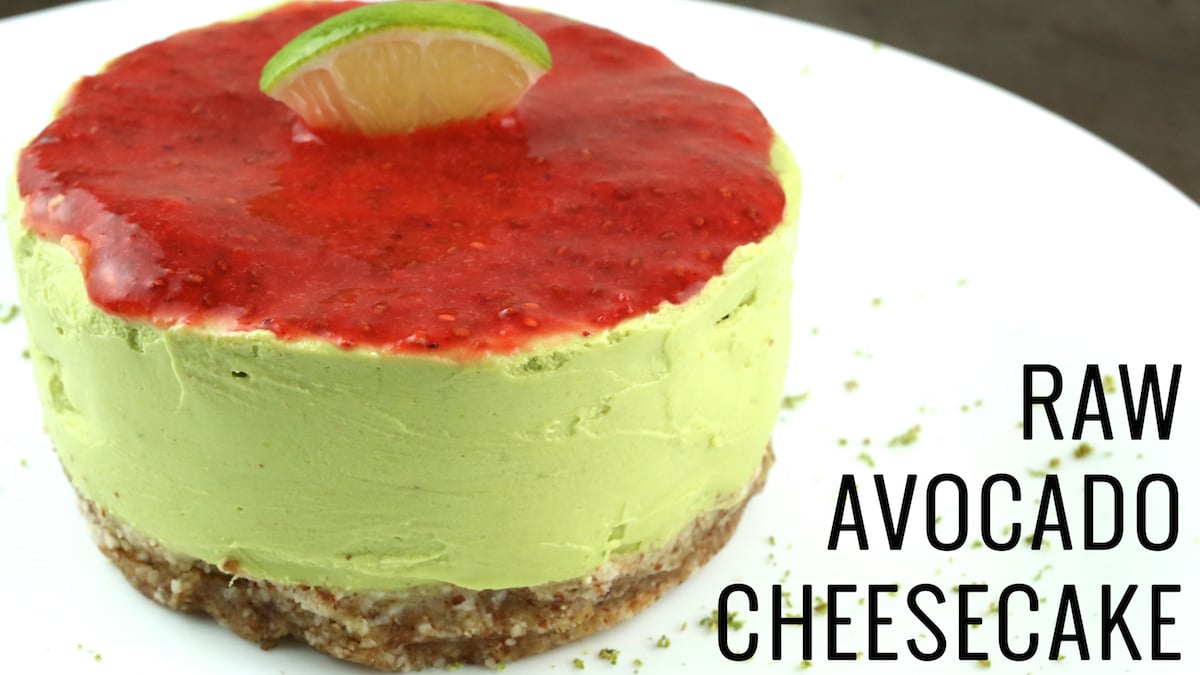 I've never eaten a full "raw" diet, but I saw someone Instagram post a raw avocado dessert they ate at an LA restaurant and immediately wanted to try it.
If you're skeptical, get over it. The avocado makes the cheesecake super creamy. The crust is a lovely combination of almonds, dates, and shredded coconut. I honestly prefer it to traditional cheesecake crust.
I think it's the perfect dessert because it satisfies your sweet tooth while still being light and healthy. No need to feel guilty after consuming half of one by yourself!
This post contains affiliate links (when you buy we make a little money at no cost to you). See our disclosure for more information.
Print
Raw Key Lime Avocado Cheesecake Recipe
This raw cheesecake is made with savory avocado, tangy lime, and sweetened with strawberries.
Author: Jessica Pinney
Prep Time: 8 Hours
Cook Time: 0 hours
Total Time: 8 hours
Yield: 8 1x
Category: Dessert
Cuisine: American
Ingredients
(Makes 2 4″ Cheesecakes)
Crust
1/3 Cup Almonds
1/4 Cup Shredded Coconut
2 Pitted Medjool Dates
1 Teaspoon Water
1 Teaspoon Melted Coconut Oil
Filling
2 Large Avocados
6 tablespoons Agave
1/2 Cup Nelly & Joe's Key Lime Juice
1 teaspoon Vanilla
6 drops of Stevia
5 tablespoons melted Coconut Oil
4 tablespoons melted Coconut Butter
Topping
2 Cups Strawberries
1/8 cup (or a little less) Lime juice
3–4 drops of Stevia
1 Tablespoon Chia Seeds
Instructions
Grind the almonds, shredded coconut, and dates in a food processor (I used this one). Add the water and grind until it has formed a dough.
Add the coconut oil last. Grind again into a mixture that will hold together when pressed in your hand.
Press into the bottom of  two 4″ springform pans and set aside.
Put the avocados, agave, key lime juice, vanilla, and stevia in a clean food processor and blend until smooth and creamy.
Add the oil, and butter. Blend.
Pour over the crust.
Allow to firm in the fridge for at least 8 hours.
Prepare the topping by taking the strawberries, lime juice, stevia, and chia seeds in your food processor. Blend together then refrigerate at least 2 hours. Top cheesecake immediately before serving.