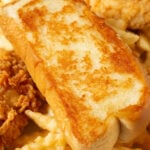 Ingredients
4 tablespoons unsalted butter, softened
1 teaspoon garlic salt
4 slices BBQ sesame bread
Instructions
Mix the softened butter and garlic salt together in a small bowl.
Spread it over the top of each slice of bread.
Heat a cast-iron skillet over medium-high heat for about 2 minutes.
Place the slices of bread in the skillet butter side down and sear for about 2 minutes, until it has started to brown.
Remove from skillet and serve.