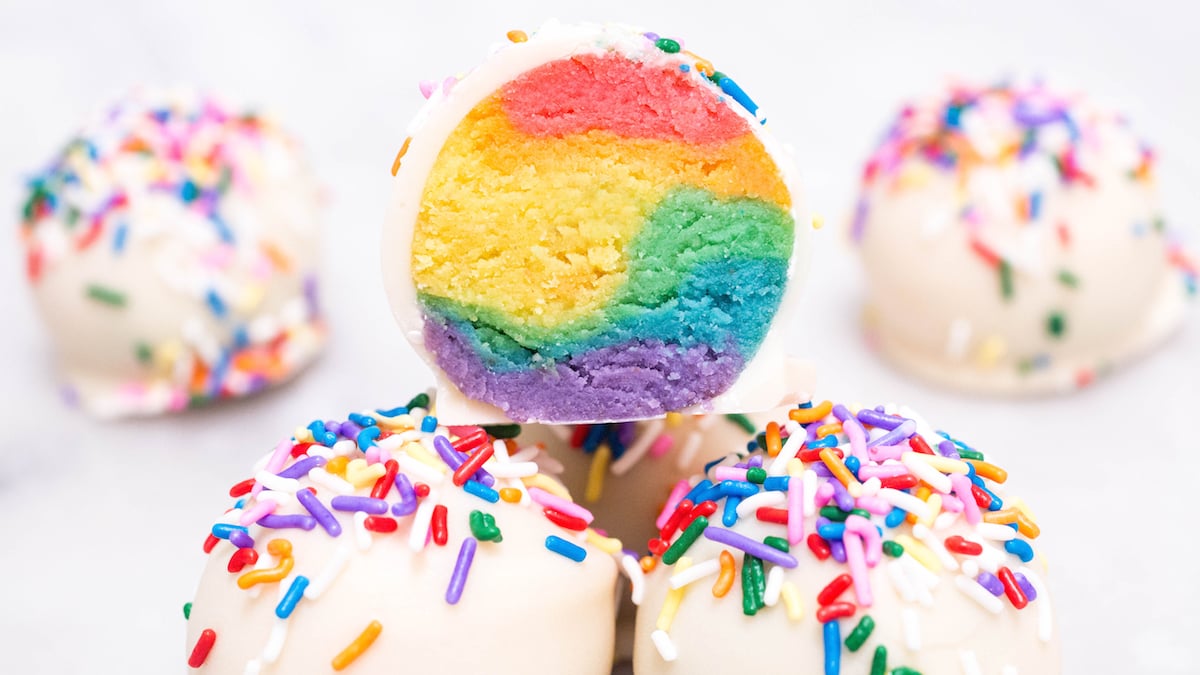 You know when we have a birthday it's time to bust out the sprinkles!
I recently bought 7lbs of 'em from Amazon so I am locked, loaded, and ready to go!
What better way to celebrate turning three than with a few rainbow cake truffles???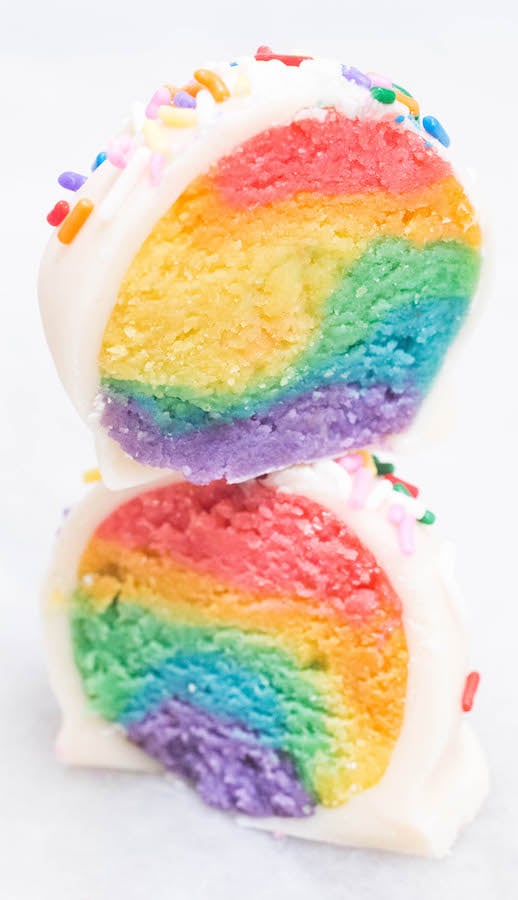 These sugary, colorful treats are basically a cake pop without the stick.
We took the first test batch to a housewarming party and they were devoured! Janette took the second batch with her to work at Big Brother, where they were given rave reviews.
I think it's safe to say you're gonna love 'em!
Some people have suggested we name them "unicorn eggs", but I always assumed unicorns are mammals and therefore do not lay eggs. Perhaps I'm just overthinking it?
Maybe that's why people tend to name things "unicorn poop", but I don't want to eat poop for our birthday. Call me crazy…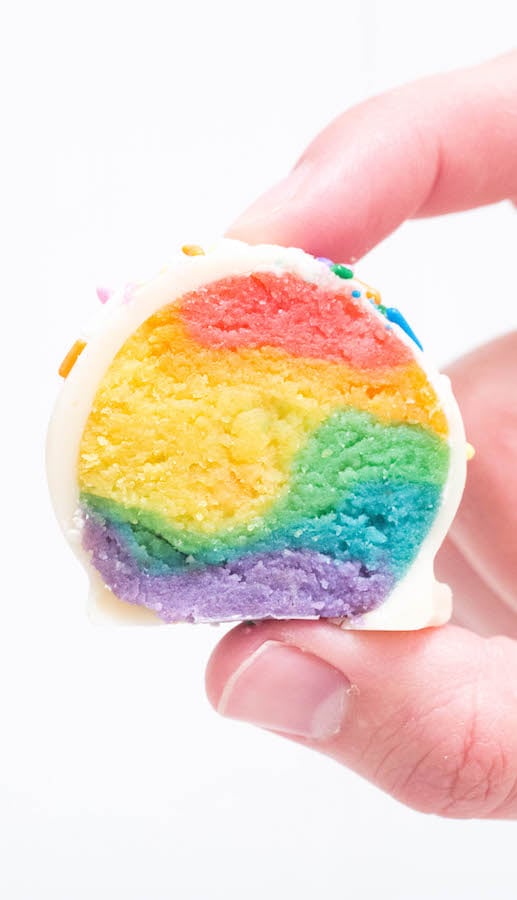 Regardless of what you call these little treats, they're delicious!
And I don't know what it is about rainbows, but just looking at the colors puts a smile on my face!
It's become a tradition to list our favorite recipes from the year on our birthday post.
It's always so fun to go back and see what we spent the year making!
Tough work, but somebody has to do it.
Janette's Favorite Recipes from 2017:
Jessica's Favorite Recipes from 2017:
It's always neat to see the recipes that were our personal favorites versus the ones you guys were most into, so below are the posts that got the most traffic this year.
Our Most Popular Recipes in 2017: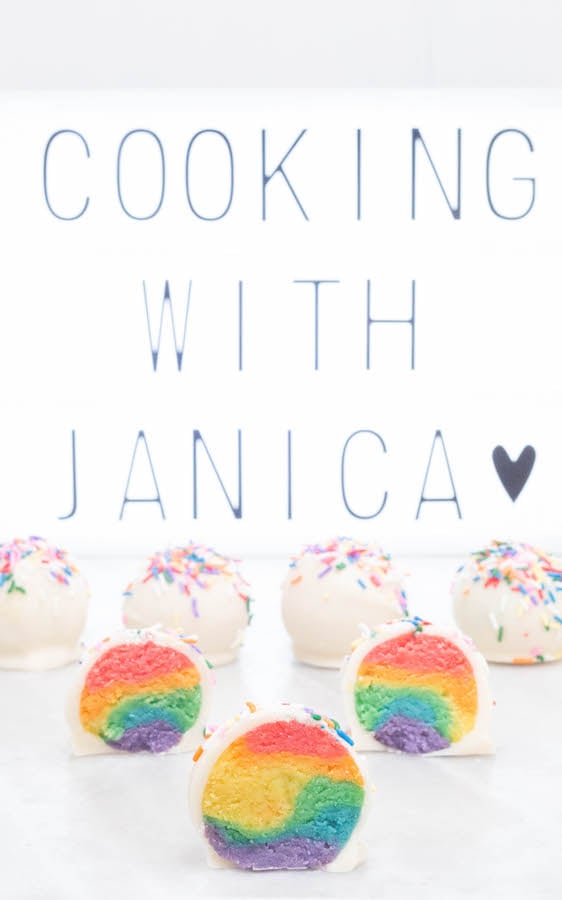 Wondering what kind of milestones we hit this year?
I shut down my consulting business to work on Cooking With Janica full-time
We got a beautiful new website design thanks to Lauren at Once Coupled
Millions of people visited our site, the most we've ever had in a single year!
The sincerest of "thank-yous" to all of you who have visited our site, shared a post, or made one of our recipes yourself. It has been so much fun sharing the food that we enjoy with all of you!
We can not wait for you to see what exciting stuff we've got coming down the pipeline this year!
This post contains affiliate links (when you buy we make a little money at no cost to you). See our disclosure for more information.
Print
Rainbow Cake Truffles Recipe
Rainbow colored cake swirled together then dipped in white chocolate and topped with sprinkles to make adorable cake truffles. 
Author: Jessica Pinney
Prep Time: 25
Cook Time: 15
Total Time: 40 minutes
Yield: 20 1x
Category: Dessert
Cuisine: American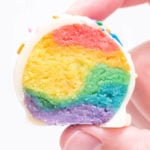 Ingredients
1 Package White Cake Mix + ingredients required to make it (usually oil & eggs)
1/3 Cup Vanilla Frosting
White Chocolate, melted (I used these)
Rainbow Sprinkles
Wilton Gel Food Coloring (Red, Golden Yellow, Lemon Yellow, Kelly Green, Royal Blue & Violet)
Instructions
Preheat oven to 350 degrees F. Place 12 cupcake liners in your muffin tin.
Mix packaged white cake mix according to directions. Divide the batter evenly between 6 small bowls. Tint each bowl a different color. I dip a toothpick in the color, then dip and stir it into the batter. Repeat until the desired tint is reached. Use the golden yellow and a little red to achieve the orange color.
Add the batter to your muffin tin. Each color will make two cupcakes. Bake for 12-15 minutes, until a toothpick comes out clean when inserted in the center. Allow to cool completely.
When cool, crumble each color of muffin into its own small bowl. Add 1 Tablespoon of frosting to each bowl and stir until combined.
You can take a small amount of each color into your hand then gently roll them into a ball – or I found it easiest to roll each color into 1/4″ balls, then roll & smoosh the balls together to form the truffle. Place on a baking sheet lined with parchment paper. Place in the freezer for at least two hours.
Once chilled, melt your chocolate. I do this by putting the chocolate melts in a microwave-safe bowl and microwaving for 30-second intervals, stirring in between – until completely melted.
When chocolate is melted and smooth, remove the rainbow truffles from the freezer. To dip, place a toothpick in the top of each truffle, dip in the chocolate, turn gently to coat, then remove from chocolate and gently turn again to allow the excess to drip off. Place truffle on a baking sheet lined with parchment paper and carefully remove from toothpick (I used another toothpick to push down while pulling up on the one in the truffle). Quickly cover with sprinkles.
Allow chocolate to harden (you can chill in the refrigerator to speed up this process). Store in an airtight container for up to 3 days.
Adapted from The Domestic Rebel