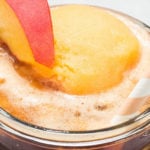 Ingredients
Peach Sorbet
5 lbs Fresh Peaches
3 Tsp Lime Juice
1/2 Cup Corn Syrup
1/4 – 1/2 Tsp Salt
Sweet Tea
4 Cups Water
5 Tea Bags ( I use Lipton)
1/2 Cup Sugar
Instructions
Peach Sorbet
Dice peaches, leaving the peels on.
Add the diced peaches, lime juice, and corn syrup into the food processor. Puree until there are no large chunks.
Strain into a large bowl through a fine mesh strainer. Add the salt to taste. Press plastic wrap against the surface and chill in the refrigerator until very cold (at least 3 hours).
Churn in your ice cream maker according to manufacturer's instructions. I use the kitchen aid ice cream maker attachment and churn for about 20 minutes. Transfer to an airtight freezer container (I like to use these, a bread pan with saran wrap also works in a pinch.) Freeze for 2-3 hours, until the desired consistency is reached.
Sweet Tea
Add the water to a small saucepan and bring to a boil over medium-high heat. Once it comes to a boil, remove from the heat and add the tea bags. Let steep 5 minutes, then remove the tea bags and discard.
Add the sugar and stir until completely dissolved. Put in a pitcher and add another 4 cups of water.
Refrigerate until chilled.
Peach Tea Float
Fill a pint glass or wide-mouth mason jar with 2-3 scoops of peach sorbet. Pour sweet tea over the top until the glass is almost full. Add a straw and enjoy immediately, preferably while swinging on a porch.