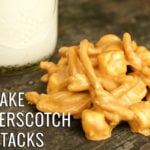 Ingredients
1 pkg. butterscotch morsels (6 oz.)
1 cup creamy peanut butter
1 can chow mein noodles (5 oz.)
2 cups miniature marshmallows
Instructions
Melt butterscotch morsels over hot water and stir in peanut butter OR use the microwave in 15-30 second increments to melt morsels and peanut butter together. (I used the microwave because it was quicker and less likely for me to burn the butterscotch!)
In a separate, large bowl, mix noodles and marshmallows together.
Pour the melted mixture over the noodles and marshmallows and mix thoroughly.
Line a tray with wax paper and drop a tablespoon or so of the mixture onto the tray to make each haystack. (you can make these treats as big or as small as you like but you need a bit of the mixture there to hold everything together.)
Place the tray in the refrigerator and chill until set. (15-20min)
Share with friends or keep for yourself. No one is judging!