It's that magical time of year when Frito Lay blesses us with new and strange potato chip flavors via their "Do Us A Flavor" contest.
Semi-finalists to be the new Lay's Potato chip flavor included tasty teases such as Bacon Wrapped Jalapeno Poppers, Toasted Ravioli, Avocado Toast, and Sloppy Joe.
In the end, there were three potato chip flavors that made it through to production.
New Lay's Potato Chip Flavors:
Lay's Wavy Fried Green Tomato
Lay's Kettle Cooked Everything Bagel with Cream Cheese
Lay's Crispy Taco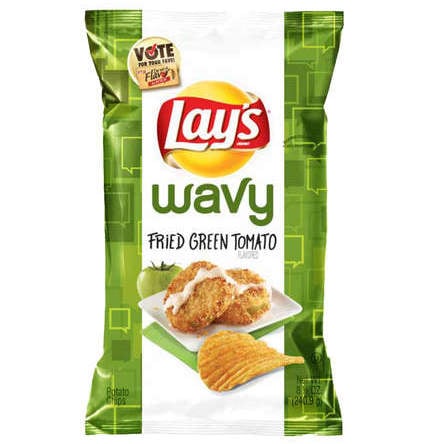 Lay's Wavy Fried Green Tomato Potato Chips
Can't say I ever would have thought of making a fried green tomato flavored chip, but I am intrigued!
I imagine these fried green tomato chips will be slightly tangy with a rich savory flavor to simulate the "fried" aspect. I can not wait to get my hands on a bag and try it out!
Maybe I'll even go meta and crush them up to make a breading to fry actual green tomatoes in….
Lay's Kettle Cooked Everything Bagel with Cream Cheese Chips
I'm fascinated by the fact they specify "with cream cheese". Can you really taste the cream cheese flavor?!?! I'm dying to know.
I've also heard that these chips give you the full "everything bagel experience", which we all know means poppy seeds in your teeth.
Since I've never had anything everything bagel flavored I didn't like, I'm excited to try these!

Lay's Crispy Taco Potato Chips
Supposedly these Crispy Taco chips taste not just like taco seasoned meat, but the toppings too! That's right, supposedly you can taste the lettuce and other condiments that make up the taco.
Sounds like it could be a good snack to pair with a beer to me!
Vote For Your Favorite New Lay's Chip Flavor
Have you tried any of the new Lay's Potato Chip flavors? How did they taste? What was your favorite?
Don't forget to vote for your favorite new Lay's Chip flavor via their website or by using Twitter or Instagram with the appropriate hashtag ( #VoteEverythingBagel, #VoteFriedGreenTomato, #VoteCrispyTaco).
The contest runs July 24 – October 8th & the creator of the winning flavor will receive a check for $1,000,000. That could pay for a lot of chips!