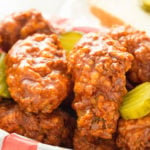 Ingredients
2

lbs Chicken Wings

3

Eggs

¼ Cup

Milk

1 Tablespoon

Louisiana Style Hot Sauce

2 Cups

Flour

2 Tsp

Salt
Oil, for frying (I use Canola, Vegetable also works great)

½ Cup

Lard (I used Butter Crisco), or Butter

3 Tablespoons

Cayenne Pepper (Nashville Hot is really hot, if you want a milder version use

1 Tablespoon

of Cayenne)

1 Tablespoon

Brown Sugar

½ tsp

Paprika

½ tsp

Garlic Powder

3/4 tsp

Salt

1 tsp

Black Pepper
Sliced White Bread
Dill Pickle Slices
Instructions
Preheat the oil in your deep fryer or a cast iron skillet to 360°.
In a medium bowl, whisk the milk, eggs, and hot sauce until combined. In another medium bowl, whisk together the flour and 2 tsp salt.
Pat chicken wings dry. Dredge each wing in the milk/egg mixture, then in the flour, then back in the egg mixture and again in the flour. Make sure to shake the excess off after each step.
Fry the wings in batches. Fry them until crispy and golden brown, about 10 minutes. Remove from fryer and place on a baking rack.
To make the hot coating, melt the butter or Crisco in a heatproof bowl. Add the cayenne pepper, brown sugar, salt, black pepper, paprika, and garlic powder. Whisk together until well combined.
Baste the hot mixture over each side of the wings. Garnish with pickles and white bread. Serve immediately.