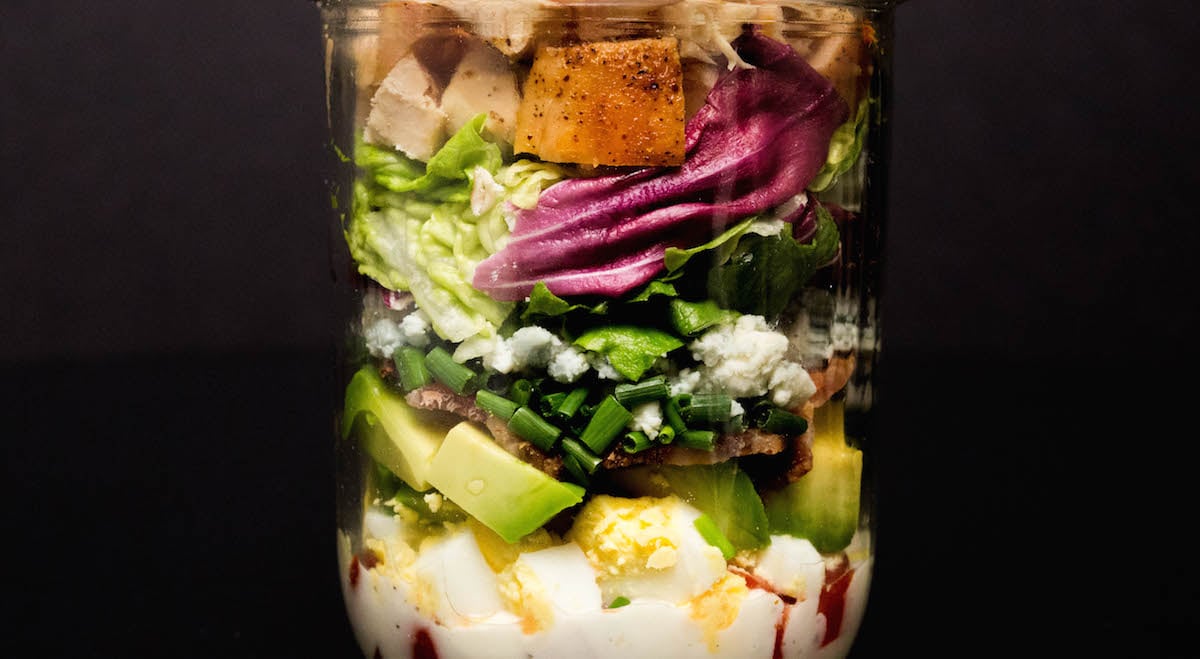 Who else loves mason jars??
Our cabinets are overflowing with them, and for good reason – they're so versatile!
We use them daily as drinking glasses, I use them to store leftovers & sauces, and sometimes even to pack a lunch.
Janette is currently shooting a TV show here in Los Angeles. She's usually on the road for work, so it's great to have her in town for a few months.
While they do offer a meal on set, Janette had mentioned to me that she wished they had healthier options – especially salads. Since I don't often have the chance to pack her a lunch like a good wife, I thought this would be a great opportunity.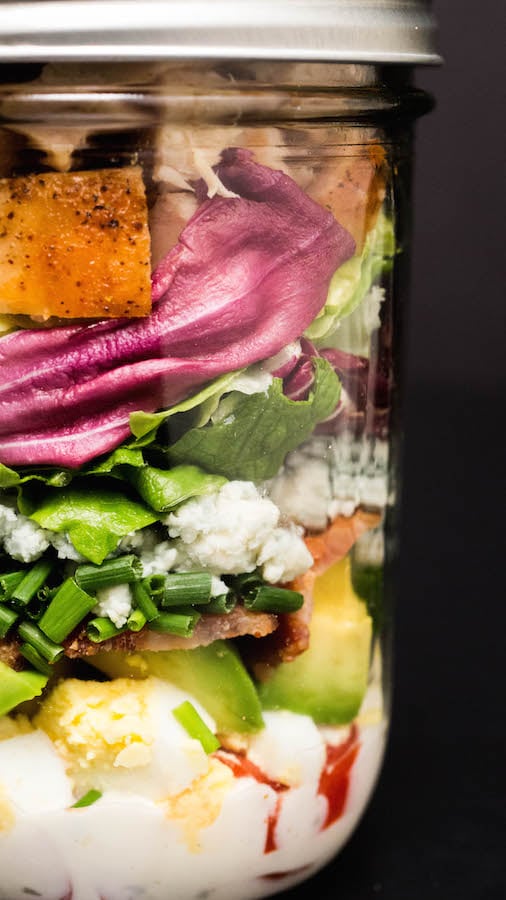 I've seen adorable mason jar salads on Pinterest and Instagram for years. Now seemed like the perfect time to finally give it a go myself.
I went with Cobb salad because it is both classic and delicious, a winning combo.
I also recently learned that the Cobb salad was invented here in LA. (Of course, it was – we love avocados and salad!)
The story goes that Bob Cobb, owner of the famous Brown Derby restaurant in Hollywood, created the salad late one night. He simply used leftovers they had available in the fridge, which included avocado, blue cheese, hard-boiled eggs and bacon.
Sidd Grauman, owner of Grauman's Chinese Theater on the Walk of Fame, had been with Bob when he created the salad. He came into the Derby the next day and ordered a "Cobb" salad. It was put on the menu and supposedly became a favorite of studio head Jack Warner and others in "the biz".
Kind of a neat story. I had always wondered where the "Cobb" part came from. 'Tis a mystery no more…
When assembling a mason jar salad there are two very important guidelines:
You always want to put the dressing on the bottom
The layer right above the dressing should be something that can't get soggy
In my version of a mason jar cobb salad, I put the tomatoes right above the dressing. That way they could serve as a protective layer for the ingredients above.
I just used a simple baked chicken breast seasoned with salt & pepper and a little bit of Morton's Nature's Seasoning. If you want to make it a little more exciting, feel free to make an herbed chicken breast or even my easy blackened chicken recipe.
Print
Mason Jar Cobb Salad Recipe
Mason Jar Cobb salads are a great meal prep work lunch Easy to prep and the jars are perfect for transporting your lunch.
Author: Jessica Pinney
Prep Time: 10 minutes
Cook Time: 0 minutes
Total Time: 10 minutes
Yield: 1 1x
Category: Salad
Cuisine: American
Ingredients
1/8 Cup Ranch or Blue Cheese Dressing
1/8 Cup Cherry Tomatoes, cut in half
1 Hard-Boiled Egg, diced
1/4 of an Avocado, diced
2 Pieces Bacon, cooked & chopped
2 Green Onions, sliced
2 Tablespoons Blue Cheese Crumbles
1/2 Cup Lettuce (I used an Italian Greens Mix)
1/4 Cup Cooked Chicken Breast, cubed
Salt & Pepper
Instructions
Layer the items in your mason jar, starting with the ranch at the bottom, followed by the tomatoes, then the egg, avocado, bacon, green onions, blue cheese crumbles, lettuce, and finally the chicken.
Screw lid on and store in the refrigerator. Will keep for a few days.
Nutrition
Calories: 490
Fat: 26g
Carbohydrates: 11g
Protein: 39g