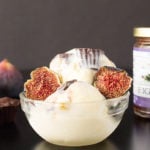 Ingredients
Almond Butter & Fig Spread Mini Dark Chocolate Cups
1/2 Cup

Almond Butter (I used Jif because it is extra smooth)

2 Tablespoons

Butter, room temperature

3/4 Cup

Powdered Sugar

2 2/3 Cup

Dark Chocolate (I used Ghiradelli Chips)
(You will also need a mini peanut butter cup mold, or mini cupcake liners)
Mascarpone Ice Cream
4

Egg Yolks

2/3 Cup

Sugar, 1.5 Tablespoons Sugar (Separated)

2 Cups

Whole Milk

8 oz

Mascarpone

1/2 Tsp

Fresh Lemon Juice
Pinch of Salt

8

Almond Butter & Fig Spread Mini Dark Chocolate Cups, cut into quarters or chopped
Instructions
Almond Butter & Fig Spread Mini Dark Chocolate Cups
(This makes 32 mini cups, the ice cream only calls for 8)
Place the almond butter and butter in a large mixing bowl. Use a handheld mixer and beat together until creamy and well-combined (1-2 minutes). Sift in the powdered sugar and beat until soft dough forms.
Roll the almond butter mixture into little balls in the palms of your hands. Set on a parchment paper lined baking tray and store in the fridge.
In a double boiler, (I use a large glass pyrex bowl over a saucepan) melt the chocolate while stirring constantly until it is silky and smooth. Remove from heat, but keep the chocolate over the saucepan so it stays warm.
Add just enough chocolate to cover the bottom of your peanut butter cup mold. Take an almond butter ball, flatten it just a little using your fingers, and place it on top of the chocolate. Make sure that the almond butter does not touch the sides so that the chocolate can fully cover it.
Place some of the fig spread on top, then spoon the dark chocolate over the top so it is completely covered.
Store in the refrigerator at least one hour until set.
When set, cut them into quarters or chop to add into the ice cream below. Store leftovers in the refrigerator.
Mascarpone Ice Cream
Place egg yolks and 2/3 cup sugar in a large bowl. Use a handheld mixer to beat until well combined and creamy (about 3 minutes).
Add the milk and 1.5 tablespoons sugar to a saucepan. Bring to a simmer over medium-high heat while stirring. Remove from heat and slowly beat it into the egg mixture. (It is important to add it slowly so you do not "cook" the eggs).
Once combined, pour the new custard mixture back into the saucepan. Cook over high heat, stirring constantly until it is thick enough to coat the back of a wooden spoon (about 5 minutes). *Be sure not to let it boil.
Pour into a glass bowl that is sitting in a larger bowl of ice water. Stir in the mascarpone, lemon juice, and salt.
When ice cream mixture is completely chilled, transfer to your ice cream maker and follow the manufacturer's instructions. Be sure to stop the ice cream while it is still soft, and add in the chopped fig almond butter cups. (I use the KitchenAid ice cream attachment. I churn the ice cream for 10-13 minutes, then add the fig & almond butter cups, mixing with a spatula).
Transfer ice cream to an airtight container ( I like to use this one, a bread pan with saran wrap can work in a pinch) and freeze at least 2 hours, or until the desired consistency is reached.