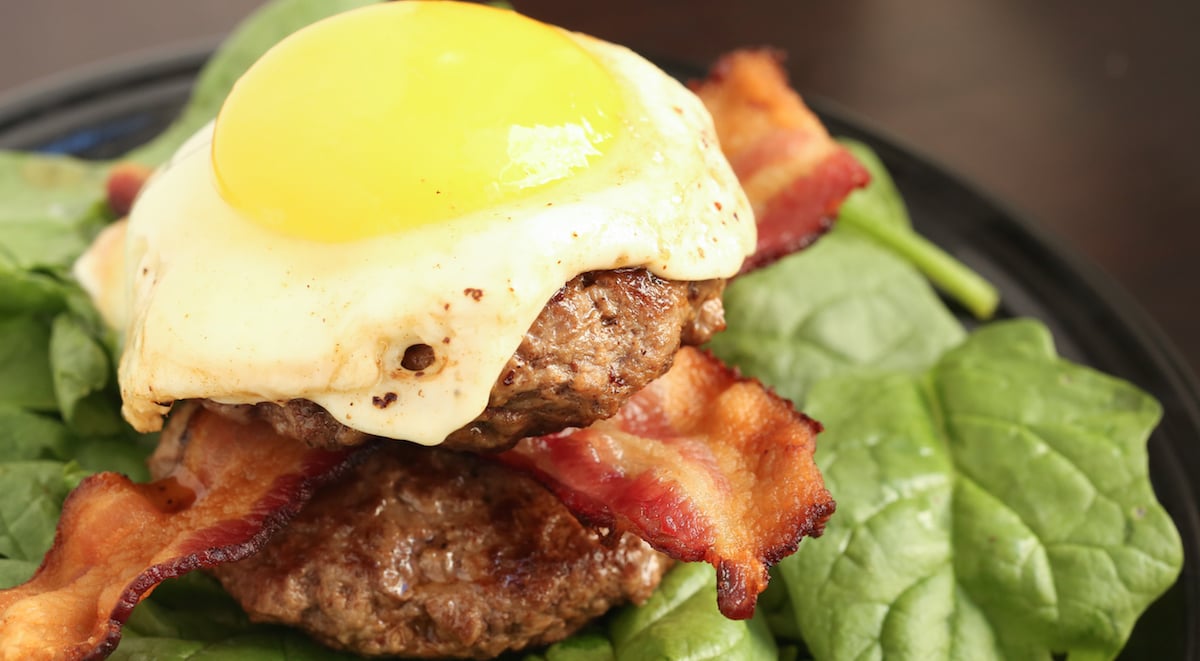 Are you ready for some healthy recipes?? I hope so because they are here whether you like it or not! After a marathon of holiday face-stuffing, I really need to fuel my body with protein and greens.
Until I feel less like the Stay Puft marshmallow man, I'm going to be cutting sugar and carbs from my diet 6 days per week. Since I am a "foodie", I can't just eat dry chicken breast and steamed broccoli. I need delicious food that I will actually look forward to. So all this month, I am planning on giving you guys healthy recipes that are fit for a foodie!
We'll begin with this low carb double bacon burger. The two pieces of grass-fed beef will fill you up, the savory bacon will satisfy your cravings, and the fried egg will keep it all nice and moist while adding a little extra protein. I serve it on a bed of spinach to help get my greens in. Now that's my kind of healthy lunch!
Here's to a fulfilling 2016 and to losing weight while eating bacon!
Print
Low Carb Paleo Bacon Burger Recipe
This Low Carb Paleo Bacon Burger makes a great lunch for anyone looking to cut carbs.
Author: Jessica Pinney
Prep Time: 5 mins
Cook Time: 20 mins
Total Time: 25 mins
Yield: 3 1x
Category: Entrée
Cuisine: American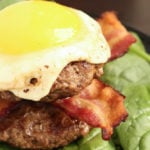 Ingredients
1lb Bacon
1.5lbs Lean Ground Beef
1 tsp Paprika
1/2 tsp Garlic Powder
1/2 tsp Onion Powder
1/8 tsp Ground Cayenne (optional)
1/2 tsp Salt
1/2 tsp Pepper
3 Eggs
Instructions
Cook bacon in a cast iron skillet over medium heat until crispy.
Remove bacon from pan, place on a paper towel lined plate to drain. Leave drippings in pan.
Combine ground beef and seasonings in a bowl. Do not over mix, as it could make the meat tough. Form into six patties.
Cook the patties over medium heat about 4 minutes per side. When done, stack on top of a bed of spinach, with bacon in between 2 patties.
Crack the eggs over the skillet and cook about 3 minutes, until whites are set and yolk is at the desired consistency. Place on top of patties.
Enjoy!