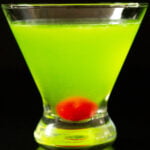 Ingredients
1.5 oz Midori
1.5 oz Triple Sec
1.5 oz Lemon Juice, freshly squeezed
Instructions
Add a few cubes of ice along with the Midori, triple sec, and lemon juice to a cocktail shaker. Shake about 10-15 seconds until combined.
Strain into a martini glass or a stemless martini glass.
If desired, drop in a maraschino cherry and let it sink to the bottom.
Cheers!