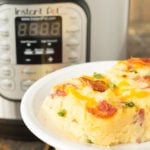 Ingredients
3 lbs Red Potatoes
1 Stick Butter
3/4 Cup Water
3 Cloves Garlic
1 Tsp Salt
1/2 Tsp Pepper
3/4 Cup Milk
3/4 Cup Sour Cream
8 pieces of bacon, cooked and chopped
Add more salt to taste (I usually add 1-2 tsp more)
1.5 Cups Shredded Cheese + 1/2 Cup for topping (I use a cheddar/Colby jack mix)
6 Green Onions, chopped
Instructions
Wash your potatoes then cut them into quarters.
Add the cut potatoes, butter, water, garlic, salt, and pepper to the Instant Pot.
Seal the lid and set to cook for 6 minutes on high pressure. (Make sure your knob is set to "sealing")
When the potatoes are done cooking, switch the steam to vent.
Once that is complete, open the pot and add the milk and sour cream. Mash with a potato masher or use a handheld mixer.
Add in the half the green onions, half the bacon and 1.5 cups of cheese. Use a spatula or spoon to combine well. (Add more salt & pepper to taste, if needed)
Place in a baking dish (I use an 8×8) top with the additional cheese, bacon and green onions. Bake at 350 F for 20 minutes.
Serve & enjoy immediately.