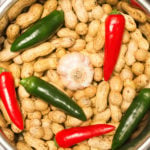 Instructions
Rinse peanut to remove any dirt or debris, then add to an Instant Pot (6 quart or 8 quart).
Add the Zatarain's, hot peppers, garlic, and salt. Add water until peanuts are covered & begin to rise slightly. Place Instant Pot trivet on top to help weigh peanuts down.
Cook on high pressure for 90 minutes. When peanuts have finished cooking, allow steam to naturally release.
Strain peanuts from the water and serve warm or room temperature.