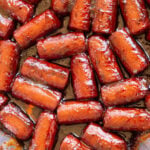 Ingredients
12 Hot Dogs
2 Tablespoons Yellow Mustard
1/4 Cup BBQ Rub
1/3 Cup Brown Sugar
1/2 Cup BBQ Sauce
4 Tablespoons Unsalted Butter, sliced
Instructions
Preheat your smoker to 225F.
Cover hot dogs with yellow mustard, then the bbq rub.
Smoke for 1 hour.
Remove from the smoker. Increase temperature to 400F.
Cut each hot dog into three even pieces.
Place in a disposable pan and top with the brown sugar, bbq sauce, and pats of butter.
Put back in the smoker for 30-45 minutes, stirring often. Burnt ends are ready when the sugar has caramelized and the sauce has thickened.