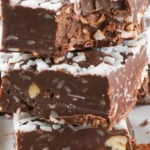 Ingredients
12 Ounces Dark Chocolate Chips
7 Ounces Coconut Pecan Frosting
½ Cup Chopped Pecans
½ Cup Sweetened Shredded Coconut
⅓ Cup Nutella
1 Teaspoon Sea Salt
Instructions
Line a 2.5-quart square pan or dish with parchment paper.
In a medium bowl, combine the Nutella, frosting, and chocolate chips.
Microwave on high for one minute. Remove, stir, and place back in for 30 seconds. Stir again.
Add the salt, chopped pecans, and half of the coconut to the bowl. Stir until combined.
Pour the mixture into the prepared dish and spread evenly. I used a silicone spatula.
Top the fudge with the rest of the coconut and place in the fridge for an hour or until solid.
Slice, serve, and enjoy!