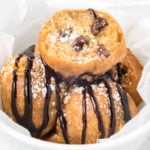 Ingredients
Cookie Dough Ingredients
1 3/4 Cups Flour
1/2 Tsp Salt
1/2 Tsp Baking Soda
8 Tablespoons Unsalted Butter, room temperature
1/2 Cup White Sugar
1/4 Cup Brown Sugar
1/2 Teaspoon Vanilla Extract
1 Egg
3/4 Cup Chocolate Chips
Other Ingredients
1 cup Bisquick
1 cup Milk
1 Egg
Oil, for frying
Powdered Sugar (optional)
Chocolate Sauce (optional)
Instructions
Cookie Dough
Using a stand or hand mixer beat together the butter and sugars until creamy. Add the vanilla and egg, then mix together on low speed for about 15-20 seconds.
Add flour, salt, and baking soda to a separate bowl and stir together to combine. Add to the bowl of creamed butter and sugar, then mix on low about 30 seconds until incorporated.
Add the chocolate chips and gently fold them in with a spatula.
Using a spoon or an ice cream scoop, form dough into 1" balls and place onto a parchment-lined cookie sheet.
Place dough balls into the fridge for 1 hour. 
Pancake Batter
Add the Bisquik, milk, and egg to a bowl. Mix together to form a batter.
Fried Cookie Dough
Add your oil to the deep fryer or a cast-iron skillet. Heat the oil to 350F.
Dip cookie dough balls into pancake batter. Carefully drop into oil, cooking 4 at a time. Fry for 4 minutes, turn over in oil halfway through.
Remove from oil and place on a paper towel-lined plate. Strain oil for crumbs before frying another batch.
Lightly dust with powdered sugar and drizzle with chocolate sauce. Enjoy warm!