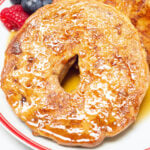 Ingredients
2 Bagels
2 Eggs
1/2 Cup Milk
1/4 Teaspoon Ground Cinnamon
1 Teaspoon Vanilla
Pinch of Salt
1 Tablespoon Butter
Instructions
Add the eggs, milk, cinnamon, vanilla, and a pinch of salt to a mixing bowl. Whisk everything together.
Dip each bagel slice. Allow to soak 30 seconds on each side.
Melt butter in pan over medium heat. Add the french toast bagels and cook a few minutes on each side until it starts to brown.
Plate with desired toppings like maple syrup, powdered sugar, and fresh berries.
Serve and enjoy!