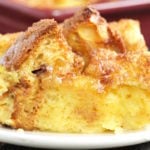 Ingredients
7

Eggs

2 Cups

Eggnog

1/3 Cup

Sugar

1/4 tsp

Cinnamon

1/4 tsp

Salt

1/2

Loaf of Brioche

1/2

Loaf Panettone

4 Tablespoons

Brown Sugar

1/2 tsp

Cinnamon
Instructions
Cut Panettone and Brioche into 1/2″ cubes.
Place cut bread into a greased 9×9 baking dish.
In a large bowl, add the eggs, eggnog, sugar, nutmeg, cinnamon, salt, and vanilla. Whisk together until thoroughly combined.
Pour eggnog mixture evenly over the Panettone and Brioche. Cover and refrigerate overnight, up to 12 hours.
When ready to bake, preheat the oven to 350°.
Combine brown sugar and cinnamon in a small bowl.
Uncover french toast and sprinkle brown sugar cinnamon mixture over the top.
Bake uncovered for 45 minutes.
Serve immediately.