This is a sponsored post written by me on behalf of BUBBA Burger. All opinions are 100% mine
Is it just me or is this summer flying by??
Ours has been super busy. Janette is busy most days shooting Big Brother for CBS, but we've somehow managed to fit in trips to NYC, Chicago, and Las Vegas for our ice cream tour.
I'm exhausted, but I want to soak up these last days of summer with a few more tastes of the season!
I'm pretty busy catching up on the work I missed while eating ice cream, so I need these recipes to be quick, easy, and delicious.
In comes BUBBA Burger to save the day. If you're not familiar with BUBBA Burger, you should be!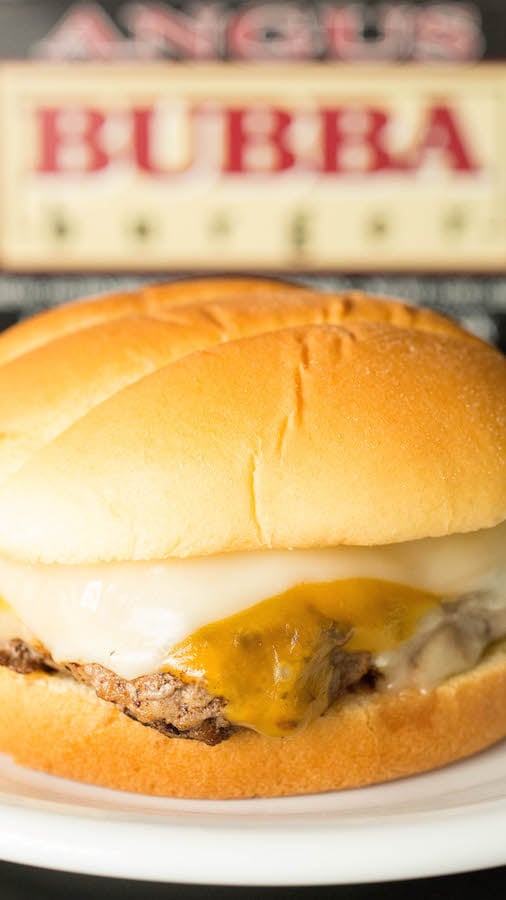 Avid readers of this blog know that Janette and I don't take a lot of shortcuts when it comes to cooking. However, when the shortcut tastes better than what we can put together, we take it every time!
BUBBA Burger does exactly that. The inventor of the BUBBA Burger, Bubba (go figure!), created a unique way to make a premium frozen burger patty. Unlike other frozen patties, the BUBBA Burger comes out perfectly juicy every time.
We absolutely LOVE that BUBBA Burger never uses any fillers or trimmings in their patties! Ain't nobody got time for that!
I wanted to create a quick & simple, yet decadent burger to serve my friends after a long day at the pool.
Angus beef is known for its spectacular flavor and tenderness. BUBBA Burger has a wonderful 100% USDA Angus Burger patty, so it was a no-brainer for me to use this in my recipe.
To make the burger Janica-style (we all know that means a little extra, right?) I decided to top it with three different kinds of cheese. I thought the perfect blend would cheddar, mozzarella, and pepper jack.
This burger is just dripping with amazingness! And thanks to BUBBA Burger they were ready in less than 10 minutes.
Maximum taste for minimum effort. This recipe is definitely getting added to our regular rotation!
Easy 3 Cheese BUBBA Burger Recipe
Ingredients:
1 BUBBA Burger Patty
1 Tbsp Grass-fed Butter
1 Slice Mozzarella Cheese
1 Slice Cheddar Cheese
1 Slice Pepper Jack Cheese
1 Hamburger Bun (I used a sourdough brioche bun, heavenly!)
(Optional) Additional Toppings: Ketchup, Mayo, Mustard, Pickles, Lettuce, Tomato, Red Onion
Instructions:
Place butter in a pan and preheat over medium heat. Once butter is sizzling, add frozen BUBBA Burger patty. Cook 4-5 minutes each side, until the desired temperature is reached. (I like mine cooked to medium, this is normally 4 minutes on each side for me.)
When you have about one minute of cook time left, add the three slices of cheese and cover with a lid. Remove burger as soon as cheese is melted.
Place burger on bun and add desired toppings. Serve immediately.