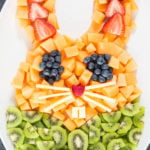 Ingredients
1 cantaloupe (cut into bite-sized pieces)
6 kiwis (slice leaving three whole slices for the middle of the bowtie and halving all the rest)
1 cup red/purple grapes
3 strawberries (sliced in half)
1/2 cup blueberries
1 raspberry
1 apple (cut out six same sized whiskers and the teeth)
Instructions
First, arrange the kiwi into the shape of a bowtie towards the bottom of your plate.  I used the 3 full slices in the middle and then added the halved slices on each side.
Next, add the cantaloupe in somewhat of a horizontal oval above the bowtie and add the ears on top.
Inside the ears place the cut strawberry halves, with the inside of the strawberries facing up.
Place the grapes at the bottom of the plate underneath the bowtie.
Add the blueberries as the eyes, the raspberry as the nose, and the apple pieces as the whiskers and the teeth.
Grab some fruit dip and chow down while hunting for some Easter eggs!