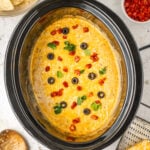 Ingredients
1 pound ground beef or sausage
2 cans (12 ounce) evaporated milk
4 1/2 cups freshly grated colby jack cheese, divided
2 tablespoons cornstarch
1 (10 ounce) can Rotel
1 (8 ounce) block cream cheese
2 tablespoons taco seasoning
Garnishes: black olives, diced tomatoes, cilantro
Chips, for serving
Instructions
Cook the beef in a pan over medium heat until no longer pink.
In a small pan, heat 1.5 cans of the milk over medium heat until very hot but not boiling.  Add 4 cups of shredded cheese (reserve 1/2 cup for later) and stir until melted. 
Mix the remaining milk and the cornstarch together and pour into the cheese and stir until the sauce begins to thicken, then remove from the heat.
Add the beef, Rotel, cream cheese, and taco seasoning to a slow cooker, then pour over the cheese sauce and stir.
Place the lid on the slow cooker and set on low for 90 minutes, stirring occasionally. When the cream cheese has melted and the dip is hot, it is ready.
Add the remaining half cup shredded cheese to the top of the dip and place the lid back on. Cook another 10 minutes, until cheese is melted. Add any other desired toppings and switch to "keep warm" to serve.