I've never attempted to make homemade chicken and dumplings before. We had some chicken, fresh green beans and carrots, and a brand spanking new bag of flour around so I thought it was about time.
Crockpot recipes are the best and this one tasted sooo good. Talk about warming up the tummy!
I had no idea what to expect when it came to the dumplings, but I'll be honest, they were really tasty. Very nice and doughy. I'd definitely make them again.
And as filling as one bowl was, I had to go back for seconds!
This post contains affiliate links (when you buy we make a little money at no cost to you). See our disclosure for more information.
Crockpot Chicken and Dumplings Recipe
Ingredients:
For the chicken and broth:
2-3 chicken breasts
1 cup carrots, diced
1 cup fresh green beans, cut in one-inch pieces
1 large onion, diced
3 cloves of garlic, minced
¼ tsp dry parsley
¼ tsp dry thyme
salt/pepper to taste
6 cups chicken stock
½ cup dry white wine
¼ flour
2 teaspoons sugar
½ cup heavy cream
For the Dumplings:
2 – 2 ½ cups all-purpose flour
1 tbsp baking powder
2 tbsp melted butter
1 cup milk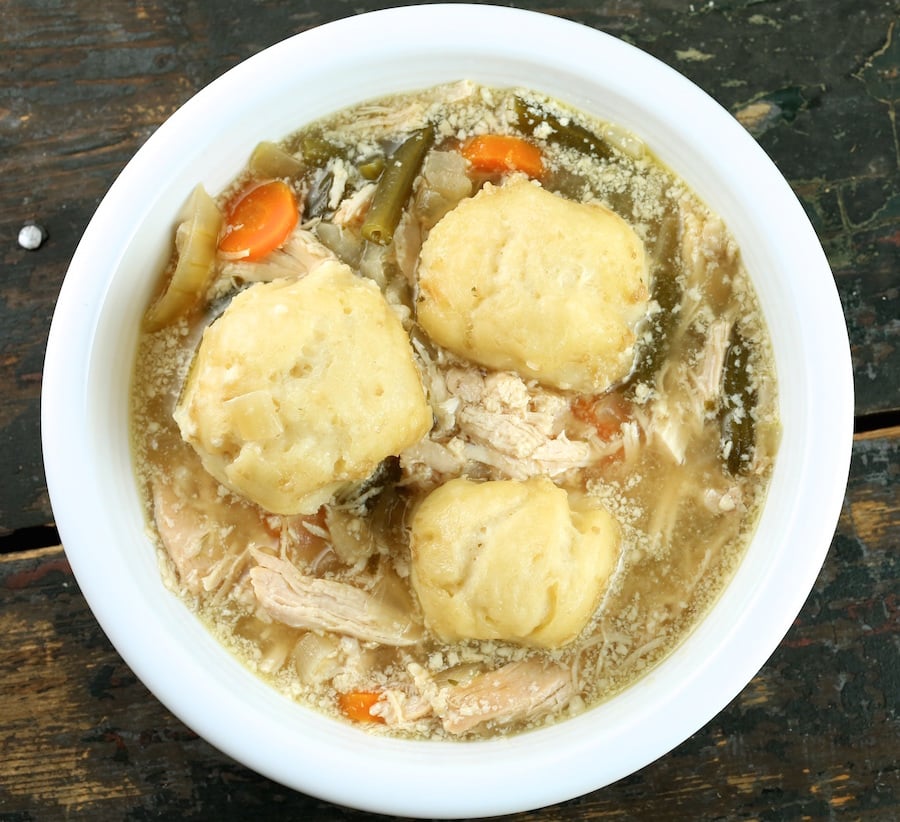 Directions:
Place chicken breast, carrots, green beans, onions, garlic, peppercorn, parsley, thyme, salt, and pepper into the crockpot.
In a large bowl, whisk together the chicken stock, white wine, flour, sugar, and heavy cream.
Pour liquid over chicken and other dry ingredients.
Set crockpot to low and cook for 6-8 hours (or on high for 3-4 hours).
While the chicken is cooking, make the dumplings.
In a medium-sized bowl, mix together the flour, baking powder and salt.
Add the melted butter and 1 cup of milk. Mix well (If dough is too sticky add some flour, if it's too dry, add a little more milk). Do not over mix the dough. Should be thick.
With a spoon or your hands, scoop out 1 ½ – 2 inch dumplings, roll around in your hand, and place on parchment paper (Made 16 balls). Set aside.
An hour before you want to serve, pull the chicken breasts out of the crockpot and shred with a fork. Then place back into broth.
Place the dumplings on top of broth and let cook for an hour.