Need to buy a present for a friend who just can't seem to get enough caffeine? Do they live just to sip on that sweet, sweet bean juice?
Then you've come to the right place! We know exactly what they want, because we are coffee addicts too! That's why we wrote this gift guide for coffee lovers. It's got everything from small stocking stuffers that cost less than $10, to more high-end presents that any coffee aficionado would approve of.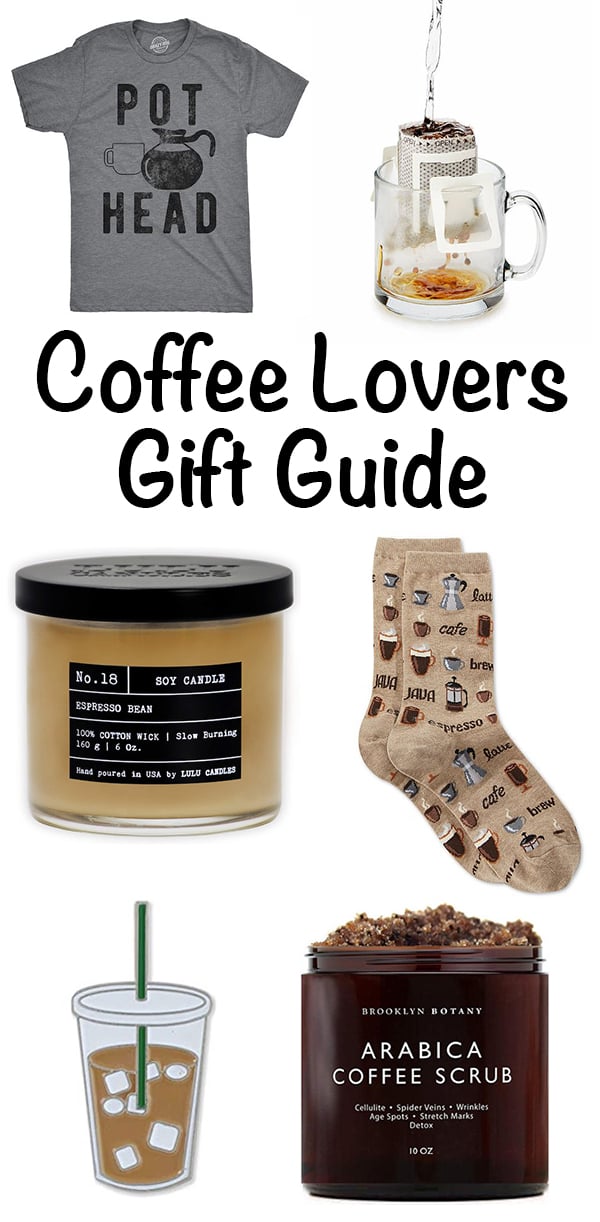 #1 – The Coffee Recipe Book: 50 Coffee & Espresso Drinks To Make At Home
This book teaches that you don't have to go out to get a great cup of coffee, you can learn to be your own barista! It includes basic recipes as well as more unique coffee drinks like a cream soda cold brew.
#2 – Cold Brew Coffee Maker
Cold brew coffee can be addicting – and expensive! This is the gift that keeps on giving because of all the money that can be saved by making your own at home. It's so easy!
#3 – Coffee BAE Travel Mug
One of our favorite Instagram artists draws these amazing coffee travel mugs. Any coffee lover would be thrilled to sip their go-go juice out of a Coffee BAE mug.
#4 – Iced Coffee Pin
Pins are used to show off your interests in hobbies, so one of these is a must for any iced coffee addict. Pin it to your hat, backpack, or purse to show the world how much you love iced coffee!
#5 – Body Coffee Scrub
Who knew coffee was for more than just drinking? This coffee body scrub exfoliates your skin and can reduce the appearance of cellulite. It makes for an excellent stocking stuffer.
#6 – Coffee Chart Wall Art
Nothing goes better over a home coffee bar than this chart! It's a comprehensive infographic of all things coffee: beans, tools, and drinks.
#7 – Ember Smart Mug 2.0
Using an Ember mug is like drinking coffee in the future! This smart mug keeps coffee perfectly hot for up to 90 minutes. The temperature can be controlled with an app on your phone.
#8 – Coffee Socks
Buying for the coffee lover who seemingly has everything? These coffee socks could be a great option. They're quality-made and ultra-comfortable!
#9 – Chemex Pour-Over Coffee Maker
For the true coffee snob (or snob in training), a Chemex is the only way to brew. It's a glass pour-over coffee maker that makes the best cup of coffee you've ever had.
#10 – New Rules Coffee Book
This illustrated book is a favorite of ours because it can be enjoyed by any coffee lover, from someone who is Starbucks obsessed to the aficionado who only buys $20+ bags of beans and exclusively brews with alkaline water.
#11 – Coffee Subscription
We buy a lot of our coffee beans from Trade because they carry practically every top roaster in the nation. You can purchase a 3, 6, or 12 month subscription of coffee that will be picked based on the recipient's personal tastes.
#12 – Chocolate Covered Espresso Beans
Chocolate covered espresso beans make a great stocking stuffer. We highly recommend this coffee lover's mix from Trader Joe's. They have a cult following for a reason!
Buy Chocolate Covered Coffee Beans
#13 – OXO Burr Coffee Grinder
Every coffee aficionado knows that the only acceptable grinder is a a burr grinder. OXO makes an excellent one for a great price.
#14 – Yeti Coffee Mug
For someone who is constantly getting up to head to the coffee pot and refill their cup, this giant 30oz. Yeti mug could be a godsend. It will keep your hot coffee hot, or even keep your ice coffee cold!
#15 – Coffee Candle
This hand-crafted candle will make anyone's house smell like there's a freshly brewed cup of coffee at all times. It's smell is both energizing and comforting.
#16 – Portable Vietnamese Pour Over Coffee
These Vietnamese portable coffee pour overs definitely bring the "fun" factor! The creator even sources the beans from Vietnam's central highlands – talk about authentic!
Buy Vietnamese Pour Over Coffee
#17 – Cold Brew Variety Pack
La Colombe makes some of the best draft canned coffees out there, so this variety back will be a nice treat for any iced latte fan. It includes four different draft latte flavors.
#18 – Coffee T-Shirt
Know someone who drinks so much coffee that everyone started calling them pot head? Well, you've found the perfect shirt for them!
#19 – Handheld Milk Frother
The key to a good latte is nice, frothy milk. A handheld milk frother is an easy and budget friendly way to achieve this at home. One of these would make a great secret Santa gift or stocking stuffer.
#20 – Airtight Coffee Canister
It's very important to store your beans properly and Veken's airtight container makes it very easy. The stainless steel finish looks great on the kitchen counter.